A Federal High Court in Lagos has ordered that two former Directors of the defunct Finbank Plc, Ernest Iheanacho Oji and Emerhor Omega Olorogun, should be joined as co-defendants in a debt recovery suit of N9,302,894,097.94 filed by the Asset Management Corporation of Nigeria  (AMCON).
Others that have also been joined as co-defendants in the legal battle to recover the alleged debt are Peter A. Ayegbeni, Mohammed Yahaya, Pat Bassey, Mohammed Aminu and a limited liability company – Lagoon Home Saving & Loan Limited.
AMCON dragged the limited liability company Ventures and Engineering Limited Company before a Federal high court in Lagos.
In a statement of  claim accompanied by witness statement on oath sworn to by AMCON Enforcement officer, Murtala Umar Sanda, and filed before the court by a Lagos lawyer, Ayo Obe, it was alleged that Ventures and Engineering Limited a company registered in accordance with company and Allied Matters Act 1990 with its registered address at 103, Awolowo Road, Ikoyi, Lagos has as it's​ chairman and Chief Executive, Ernest Iheanacho Oji, who was​ also a Director of Finbank Plc during a period spanning 2008-2010.
Following the classification by the Central Bank of Nigeria of the facilities granted to the company by Finbank Plc as non performing loan due to the refusal of the company to pay back, by loan purchase agreement between Finbank and AMCON, Finbank has assigned to AMCON all rights arising from and in connection with the company's outstanding loan obligation to Finbank Plc.
By offer of credit facility letter dated 12th​ February 2004, Ventures and Engineering Ltd Company​ was granted facility by First Atlantic Bank Plc in the sum of N45 million; security for the said facility included a memorandum for the use of shares in the Central securities clearing systems Ltd. depository as collateral.
By another offer letter of credit facility letter dated 20th​ November 2007, the company was granted a Bid bond facilities by First Atlantic Bank Plc in the sum of N600million, security for the said facility included a letter of lien and set off.
By a banking facility letter dated the 8th​ January 2009, the company was granted a short term loan facility by Afribank in the sum of N3billion for the purpose of enabling the company to take a strategic position in a quoted company, i.e to purchase shares in a company​ ​ publicly quoted on the Nigeria Stock Exchange.
The company, acting through its chairman and its Managing Director, Ernest Iheanacho Oji, agreed that the security for the said Afribank facility would be a lien​ on the shares of the Blue chip companies to be purchased and the personal guarantees of the Directors of the company.
However, instead of Venture and Engineering Limited Company providing the said agreed security, the same was substituted by the guarantee of Finbank in the sum of N3billion dated 21st​ of January 2009; payback, subsequently provided a further guarantee dated the 20th July, 2009 in the sum of N3,600,000,000 with Afribank.
Upon the release of the total sum of N3billion (less N50million bank charges) funds under the Afribank facility as it has been agreed, instead, the company rapidly transferred the entire sum of N2,950,000,000 to a company Black Hawk Energy Services Ltd, which immediately transferred the said sum to Emerhor Otega Olorogun, Peter A. Ayegbeni, Mohammed Yahaya, Pat Bassey Muhammed Aminu and Pesley – PBTG group of which Pat Bassey was the Managing Director.
Upon the transfer of Afribank funds​ from Black Hawk Energy Services, Emerhor Otega​ Olorogun, Peter Ayegbeni Pat Bassey and PESLEY-PBTG group transferred all the funds they had​ received from Black Hawk Energy Services to Lagoon Home Savings and Loan Ltd.
After the transfers by Emerhor Otega Olorogun, Peter A. Ayegbeni, Mohammed Yahaya, Pat Bassey, Mohammed Aminu and Pesley PBTG group of Lagoon Home Savings and Loans Ltd, the​ said Emerhor Olorogun and Pat Bassey became Directors of Lagoon Home Savings and Loan Limited.
At the time when the guarantees of Finbank had placed a sum of N3,600,000,00 with Afribank, they were substituted for the security originally agreed under the Afribank facility, Ernest Oji and Emerhor Ortega Olorogun were Directors of Finbank.
In the circumstances, AMCON says that the said funds were tainted eligible assets within the meaning of section 37 of the AMCON Act.​
Following the failure of the company to repay the monies under the Afribank facility by a letter dated 12th​ September 2009, Afribank called in the guarantees issued by Finbank​​ upon failure of Finbank to honour its guarantees by a letter dated 8th​ March 2010. Afribank notified Finbank of its intention to set off the placement by Finbank of N3,600,000,000 with it to part defray the indebtedness of the company in respect of the Afribank facility.
Finbank thereafter debited the company's account with N3,600,000,000 in respect of which Afribank had exercised its right of set off and the company thereby became further indebted to Finbank, both sums continue to accrue interest but the company failed and refused to make any payment.
As at 31st​ of March 2019, the statements of the company's account with Finbank, Afribank and AMCON show that the total sum outstanding in respect of the company's indebtedness to AMCON being principal sum together with accrued interest stood at N9,302,894,097.94.
Meanwhile, AMCON alleged that its task force has traced the funds released to the company under the Afribank facility to bank accounts owned by or operated by the said Emerhor Otega Olorogun, Peter A. Ayegbeni, Mohammed Yahaya, Pat Bassey​ Mohammed Aminu and Pesley PBTG Group, as well as Ventry Development Limited, West Power and Gas Ltd and Alpha Consortium Ltd, all companies of which Ernest Oji is the promoter and is also Director and signatory to their accounts, and in the circumstances AMCON contended that it is entitled and enjoined​ to recover all such funds from any or all of the said persons or companies under the provisions of section 37 of the Asset management Cooperation of Nigeria Act 2010.
Meanwhile Based, on an Application filed before the Court by AMCON, the Court has issued Mareva order against the accounts of the company that may be domiciled in 21 commercial banks in Nigeria for the banks to show cause while funds in such account should not be attached to satisfy the debt.
A man was fined 220 dollars for dropping two rubber bands on a public road in Singapore, local media reported on Tuesday.
Photos of a ticket issued by Singapore's National Environment Agency on May 23 were shared on Twitter, detailing the nature of the offence as "You did throw rubber band in a public place.''
The screenshot was confirmed by the NEA as being genuine, according to local daily, The Straits Times.
"NEA enforcement officers observed a man walking toward his vehicle and shooting two rubber bands, one after the other, into the air,'' the agency said, in response to queries by Channel NewsAsia.
"The rubber bands landed on the public road. Our officers thus informed him of the littering offence and issued him an enforcement ticket,'' NEA added.
Littering offences in Singapore are punishable by fines and a corrective work order, which requires recalcitrant offenders to clean public areas for a minimum of three hours, up to a maximum of 12 hours.
About 39,000 littering tickets were issued in 2018, according to data released by the NEA in May.
Social media users reacted by either applauding the move or expressing their amusement at the fine.
"I honestly think it serves the person's right to be fined for throwing the rubber bands,'' tweeted Diviyanth. "It's not the item size but the action of doing so; thus the fine.''
"Well, I don't expect them to bend the rules, but the officer could have been more flexible,'' said a Facebook user, Prashant Thadathil.
(dpa/NAN)
Outgoing Governor of Lagos State Governor Akinwunmi Ambode on Tuesday handed over to the incoming governor, Mr. Babajide Sanwo-Olu, at the Lagos House in Alausa, Lagos.
Sanwo-Olu made this known via his Twitter account.
He wrote: "Thank you H.E @AkinwunmiAmbode for your kind words today as you officially handed over your stewardship of our great state, Lagos. Life is a succession of moments and today we are at the right place and moment to build #ForAGreaterLagos. #SanwoOluInauguration"
Meanwhile, Governor Ambode has said all the decisions, plans, programmes and policies of his administration in the last four years were taken with the best interest of Lagos in mind and for common good of all residents of the State.
Ambode, in a farewell State broadcast to officially mark the end of his administration, said the driving force with respect to programmes executed was to lift more people out of poverty and make every part of the State economically viable and livable.
"For this administration, policies, programmes and projects aimed at lifting more of our people out of poverty and making every part of the State safe, accessible and economically viable were always the priority; the driving force behind all our decisions and plans.
"A few of our policies might have been unpopular but these were decisions taken with the best interest of our State in mind. With the benefit of hindsight, maybe we could have done some things differently but our intention was always clear, for the good of Lagos," Ambode said.
He particularly commended the people for the constructive feedback to some of the policies of his administration which, according to him, helped to surmount challenges, saying it had been a remarkable journey to serve the State.
"With a heart full of gratitude, I address you today for the last time as your governor. It has been an honour and a privilege of a lifetime to serve you for the last four years.
"It has been a remarkable journey which has had a lasting impact in my life and I want to thank all Lagosians for the experience of these last four years.
"As in the beginning when we visited every single corner of this state listening to you and asking for your votes, I have felt the power of your support, your collective energy and the endless goodwill that has propelled us to achieve many things," he said.
Describing Lagos as a place where dreams come true and a home for everyone, Governor Ambode said it was the duty of all residents to continue to ensure that the State remained the true centre of opportunities and growth for all.
"From being just a commercial centre, our State has now become a prime destination for tourism, sports, entertainment and culture. And the future is even brighter with more exciting prospects and possibilities. In the near future, with God on our side, Lagos will take its rightful place in the comity of major city-States of the world.
"Fellow Lagosians, it has been a remarkable journey. One in which we have pushed boundaries and moved our State to another level. A journey in which we have transformed many aspects of our State and set the ball rolling in other sectors. But there is still a lot more to be done.
"But it is a job not for only the government; it is a responsibility for us all. In Lagos everyone counts and we all have a part to play," he said.
While appreciating the people for the support given to successive administrations in the State, Governor Ambode also urged all stakeholders to support the incoming administration of Mr Babajide Sanwo-Olu, saying such would be in the best interest of all.
"By tomorrow, there will be a change of guard in our State. I will be stepping down and a new Governor will be sworn in. We will have a new Governor and a new administration with the same objective; achieving a better Lagos.
"Those who have had the privilege of serving our dear State in different capacities especially as Governors owe their successes to your prayers, understanding and support. The same courtesy and cooperation that you gave to my predecessors from the first elected Governor of the State, Alhaji Lateef Jakande to our national leader, Asiwaju Bola Ahmed Tinubu and Mr. Babatunde Raji Fashola (SAN) to my humble self, I urge you to extend same to the next administration of Mr. Babajide Sanwo-Olu and ensure that he succeeds. It is in our best interest to do so," he said.
Besides, Ambode thanked President Muhammadu Buhari, Vice President Yemi Osinbajo, the executive, the legislature, the judiciary; leadership, elders and members of All Progressives Congress (APC); Local Government Councils and community leaders, all our security agencies, civil society groups and religious leaders, among others for their immense support throughout the tenure of his administration.
"To my wife, Bolanle and the children, who have had to endure many days and nights without me; I thank you for your love and steadfastness. You will continue to be my pillar of strength.
"To all Lagosians; for your love, compassion, cooperation and support, I am eternally grateful. My love always," Ambode concluded.
The National Assembly Joint Committee has raised concern over Federal Inland Revenue Service's (FIRS) 2019 projected estimate of non-oil revenue tax collection of N146.54 billion.
The co-chairman of the committee, John Enoh, and other members of the committee raised the concern at FIRS's budget defence in Abuja on Monday.
The committee sought to know why the 2018 approved estimate was N153.85 billion, while the 2019 projected cost stood at N146.54, amounting to 4.75 per cent decrease.
On personnel cost, the committee asked why the service was proposing 14.6 per cent increase in number of staff from 7, 854 in 2018 to 9000 staff in 2019.
It equally demanded explanation for the "proposed N160 million meant to sew drivers' uniforms, N825 million for refreshment and security vote of N250 million among others."
The Executive Chairman of FIRS, Tunde Fowler while presenting the budget proposal, noted that the proposed increase in staff strength was due to recruitment of staff scheduled in 2019.
He further explained that N160 million was earmarked to sew uniforms for the 850 drivers of the service as part of effort to make them fit properly into the structure.
That means each driver's uniform will cost over N188,000.
Also, Mr Fowler said the amount earmarked for security vote was meant to attend to some security issues, particularly those not receipted for.
"The achievement of 2019 budget will be driven by increase oil and non-oil revenue tax collection.
"The service in realisation of this responsibility and challenges of doing manual collection will continue to implement automated tax collection for the critical sectors of the economy notably telecommunications, airlines and financial institutions.
"The deployment of these platforms is at no cost to the service and the consultants will only be rewarded on increased revenue generation.
"There will be increased enforcement activities nationwide to bring more tax payers into the tax net and increase compliance level,'' Mr Fowler said.
(NAN)
The Lagos zonal office of EFCC have arrested the proprietor of a "Yahoo Yahoo" training school in Lagos, Frank Chinedu.
Chinedu, 22, was arrested alongside eight students of the unnamed training centre located at 14, Animashaun Street, Progressive Estate, Ojodu Berger, Lagos, while receiving lectures in internet fraud activities.
The students are: Ahmed Musa, 24; Desmond Eze, 29; Preye Kingsley, 23; Benjamin Irabor, 21; Benjamin Opah, 19; Akapo Prosper, 22; Innocent Paul, 20 and Olamide Edun, 20.
The suspected internet fraudsters were arrested under cover on May 22, 2019, following intelligence reports received by the Commission about their involvement in alleged criminal activities.
Items recovered from the suspects at the point of arrest include nine laptops, 16 mobile phones, an Airtel modem, Orange Wifi and one Toyota Camry with registration number EPE406FN. The suspects will soon be charged to court.
It is no news that billionaire, Olorogun Moses Taiga, the president-general of Urhobo Progress Union (UPU) Worldwide, has a fetish for female lawyers. It is not a mere coincidence that all the four women he had celebrated marriages with are lawyers. He is, however, regarded in some quarters as a professional litigant as he has been engaged in various legal battles with different women ranging from paternity to validity and nullity of marriages contracted whilst found to be lawfully wedded to another.
Information reaching The Witness and making the rounds in social circles is that Olorogun Taiga has allegedly dumped his third wife, Oyeyinka and her alleged 'fake' quadruplets to marry yet another Warri, Delta State-based lawyer, Barr. Omoefe Pela, without the dissolution of his union with Oyeyinka. The Witness also gathered that the day of the marriage was also Oyeyinka's birthday.
It was also learnt that the traditional marriage ceremony held on 26th April 2019 at Omoefe's family compound in Oginibo Community, Ughelli South Local Government Area of Delta State attracted eminent personalities ranging from political leaders, honourable members, top government functionaries, community leaders and numerous well-wishers across Nigeria.
A source in the know told The Witness: "It is clear that Oyeyinka's fear of many years has suddenly come to haunt her. Olorogun Taiga's new marriage is not a secret anymore, the super-excited new bride and her friends have quickly released pictures and videos of the marriage on Facebook and YouTube, so that anyone in doubt can have a feel of the ceremony.
"It was done in his usual style of not dissolving previous marriage or marriages before purportedly marrying the woman!
"One cannot but wonder why this great grandfather still decides to go down this route despite his old age and frailty; and why on earth he chose to marry a new wife as a birthday gift to Oyeyinka, who always seemed to be in control of his affairs.
"Obviously, Taiga has seen through Oyeyinka's lies and fake lifestyle and he decided it was time to dump her and the 'fake' quadruplets", the source said.
See below, video of the traditional marriage ceremony between Olorogun Moses Taiga and Barr. Omoefe Pela:
Attempts were made by The Witness to get the other wives to comment on the development. Our correspondent was able to reach Nneka Ogbedo, the mother of Moses Taiga's twin daughters (born just before Yinka's acclaimed quadruplets), who expressed her lack of surprise at the news as she had seen it coming a long time ago.
Nneka said she was only amazed that Yinka would have been foolhardy enough to think that the lies of her purported quadruplets could go on forever.
She claimed that the issue of her marriage celebration with Moses was before the Supreme Court of Nigeria and so she would ordinarily not want to speak on the issue but she knew for certain that this was Taiga's fourth time of celebrating marriages whilst in lawful marriage with another.
According to her "Taiga continues to show flagrant disrespect for the matrimonial laws of Nigeria and that of the United States of America through his serial commission of the offence of bigamy. Even with all the evidence and video recordings of our traditional marriage before the court, Taiga has continued to deny that there was no marriage between us".
Further investigation by The Witness revealed that having contracted two marriages with Grace (the first wife) and Nneka (the second wife), Olorogun Moses Taiga went ahead to perform two marriage rites with Oyeyinka, one in New Jersey, in the United States of America where he claimed to be single, without dissolution or nullification of the previous marriages. It was only recently whilst in court for nullification of Nneka's marriage that Taiga's marriage to Grace was dissolved and that led him to contract yet another marriage with Oyeyinka again at the Ikoyi Registry in Lagos.
Olorogun Taiga is alleged to be notorious for denying marriages shortly after the lavish celebrations even in the face of pictures and video evidences. He is said to not only be in the habit of denying these celebrations, but also denying the paternity of his children.
He was in a paternity battle with Nneka (the second wife) over her twins until the DNA result issued by a UK-based hospital chosen by Moses himself proved that he was 99.9 per cent the father of the twins.
Recently, he started a paternity battle at the FCT High Court with one Rabi Achimugu and also another paternity battle with one Mrs. Ngozi Okafor.
Sources further disclosed to The Witness that though Olorogun Taiga is an acclaimed billionaire, many of his biological children live in abject poverty and are said to be neglected with no trace of his wealth on them except the twin daughters born by Nneka (after she dragged him to the UK court where he was mandated to fulfill his responsibility towards them to the last letter).
Another source said: "The only children who have access to Taiga's wealth are the alleged 'fake quadruplets' by Oyeyinka. If Moses did not father those children, Oyeyinka unnaturally made sure that the wealth of Taiga remained within her four children and family members.
"Yinka is about to learn that fame, like power as they say, is ephemeral.
"It has been impossible for any biological child of Taiga to have access to him especially his adult daughter, Elohor born to him by his former landlady, Margaret Agambi," the source disclosed.
Section 370 of the Nigeria Criminal Code Act provides thus: "Any person who, having a husband or wife living, marries in any case in which such marriage is void by reason of its taking place   during the life of such husband or wife, is guilty of a felony and is liable to imprisonment for seven years.
Between Taiga, Yinka and the alleged 'fake quadruplets' 
Recall, Nneka had alleged and publicized that Olorogun Taiga and his second wife, Oyeyinka are not the biological parents of the acclaimed quadruplets contrary to what Yinka particularly had led the world to believe.
Nneka had earlier claimed that the four children were given birth to by three different mothers and fathers, with none from Oyeyinka and Moses Taiga.
Oyeyinka had claimed that she got pregnant and was delivered of quadruplets after attending the annual Holy Ghost Congress programme of the Redeemed Christian Church of God (RCCG) in the year 2000.
However, speaking further, Nneka had said: "The tale of the quadruplet is a big lie meant to deceive the public following several defamatory publications about her and her twins.
"Moses and Oyeyinka Taiga are not the biological parents of the acclaimed quadruplets contrary to what they had led the world to believe. The four children were given birth to by three different birth mothers, none of which was Yinka Taiga.
"Oyeyinka procured those children from Los."
According to reports, the birth certificates of the quadruplets (which are public documents and can be accessed by interested persons upon application to the birth registry in Los Angeles) show that a set of twin boys were born between 8.23 am and 8.31a.m and the other two children were recorded as single births and were born at 12.04 pm and 9.25 pm all on the same day (11-21-2001) at the Cedars Sinai Medical Center, 8700 Beverley BLVD, Los Angeles, USA. Howard Mandel, a medical doctor, attended to the births.
All efforts by The Witness to reach Olorogun Taiga proved futile as calls and text messages placed to his MTN mobile lines were not responded to as at press time.
Source: The Witness
The World Health Organization (WHO) has officially recognized gaming addiction as a Mental Health Disorder.
The WHO's International Classification of Diseases (ICD),  describes addiction to digital and video gaming as "a pattern of persistent or recurrent gaming behavior" that becomes so extensive it "takes precedence over other life interests".
The WHO's expert on mental health and substance abuse, Shekhar Saxena, said some of the worst cases seen in global research were of gamers playing for up to 20 hours a day, forgoing sleep, meals, work or school and other daily activities.
He stressed that only a small minority of people who play digital and video games would develop a problem, but said recognition of early warning signs may help prevent it.
"This is an occasional or transitory behavior," he said, adding that only if such behavior persists for around a year could a potential diagnosis of a disorder be made.
Responding to the decision to including gaming addiction, the Video Games Coalition,  an industry lobby group said their products were "enjoyed safely and sensibly by more than 2 billion people worldwide" across all kinds of genres, devices, and platforms.
It added that the "educational, therapeutic, and recreational value" of games was well-founded and widely recognized and urged the WHO to reconsider.
Here is the official definition of gaming disorder from the WHO:
"A pattern of persistent or recurrent gaming behavior ('digital gaming' or 'video-gaming'), which may be online (i.e., over the internet) or offline, manifested by:
Impaired control over gaming (e.g., onset, frequency, intensity, duration, termination, context);
Increasing priority given to gaming to the extent that gaming takes precedence over other life interests and daily activities; and
Continuation or escalation of gaming despite the occurrence of negative consequences.
The behavior pattern is of sufficient severity to result in significant impairment in personal, family, social, educational, occupational or other important areas of functioning."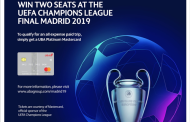 Leading Pan-African Bank, United Bank for Africa (UBA) Plc in partnership with leading global payments and technology company, Mastercard, will be giving away an all-expenses paid trip- ticket to 12 lucky customers of the bank and their plus ones to watch the Finals of the 2019 UEFA Champions League.
Open to all existing and new UBA Platinum Mastercard holders, this amazing giveaway is an opportunity to pamper customers and give them a unique, unforgettable and priceless experience including flights, visas, 5-star accommodation, tickets to watch either the semi-finals or final matches of the UEFA Champions League and so much more with their MasterCard Platinum Access.
A total of 12 UBA Platinum Mastercard holders from Nigeria and 11 other African countries will share the enthralling experience of watching the finals live with a loved one as well as enjoy the great ambience of host city of the Semi-Finals or Finals (Madrid). The participating countries are Benin, Cameroon, Chad, Congo Brazzaville, Gabon, Ghana, Liberia, Sierra Leone, Tanzania, Uganda, Zambia.
"As we celebrate our 70 years of Banking and excellence, this is our way of rewarding customers for their continued patronage to the UBA brand. There will be many more this year as we want to continue to appreciate all our customers. Customers who qualify should get a UBA Platinum Mastercard and spend a minimum of $10,000 or its equivalent in his or her local currency to stand a chance to win the all-expense paid package. To get your UBA Platinum Mastercard at any UBA Branch, a customer simply needs to contact his or her relationship manager at any UBA branch office" the Group Head, Marketing, UBA Plc, Mrs. Dupe Olusola said.
She said, "The UEFA Champions League is the most sought-after trophy in club football competition, and one of the most followed sporting spectacles in the world. To this end, we decided to partner Mastercard and UEFA in bringing the most iconic and cherished moments in the history of football to our esteemed and loyal customers who are the reason we are so successful.
"We realize that, a lot of our customers love football and we feel giving them this treasured experience while they are pampered in far-away Spain is the way to go. These are the moments that make football such a passionate sport and we want to share these moments and experiences with our loyal customers across Nigeria and Africa," Olusola said.
United Bank for Africa Plc is a leading pan-African financial services group, operating in 20 African countries, as well as the United Kingdom, the United States of America and with presence in France.
The Economic and Financial Crimes Commission, EFCC, on Monday re-arraigned a former Chairman, Board of Directors, Skye Bank Plc (now Polaris Bank), Mr Tunde Ayeni, and the former Managing Director, MD of the Bank, Timothy Ajani Oguntayo, before Justice Ijeoma Ojukwu, of a Federal High Court, Abuja, on an eight-count charge bordering on money laundering to the tune of N8billion.
They were initially arraigned before Justice Nnamdi Dimgba of a Federal High Court, Abuja on December 17, 2018, shortly after which the judge was transferred out of Abuja to the Delta Division of the Court.
One of the counts reads: "That you, Dr. Tunde Ayeni whilst being the Chairman, Board of Directors of Skye Bank Plc and Timothy Ajani Oguntayo whilst being the Managing Director and Chief Executive of Skye Bank between the years 2014 and 2015 conspired at different times to do an illegal act, to wit; caused cash delivery to you, Dr. Tunde Ayeni of the sums of money totalling N4,750,000,000 and USD5,000,000 belonging to Skye Bank Plc, contrary to the provisions of Section 1(a) of the Money Laundering (Prohibition) Act 2011 (as amended) read together with Section 18 (a) of the Money Laundering (Prohibition) Act 2011 (as amended) and punishable under Section 16(2) (b) of the Money Laundering (Prohibition) Act 2011 (as amended)."
They pleaded "not guilty" to the charges.
Wole Olanipekun, SAN, lead defence counsel, applied that the Court allow the defendants to continue on the bail terms earlier granted them by Justice Dimgba.
Counsel for the EFCC, Suraj Saeda, SAN, noted that the defendant had been attending court as expected, and had not jumped bail, adding that, "we have no objection to deny them bail on the condition imposed by Justice Dimgba."
Justice Dimgba had admitted them to bail in the sum of N50 million with two sureties each in like sum, who may be either civil servants of not less than the rank of Assistant Director or be private businessmen or professionals provided that one of the sureties is a civil servant.
Justice Ojukwu, thereafter granted them bail as requested and adjourned to July 2, 2019.