The month of September signals the end of summer and the start of a new school year. Keeping yourself entertained while the kids are at school and making sure they are occupied over the weekend, should no longer be a problem as GOtvhas assembled an exciting line-up of programmes to keep you and your family entertained all month long!
And with the #GOtvStepUp campaign, GOtv customers on lower packages can enjoy world class entertainment packed with sports, movies, series and more all on GOtv Max at a reduced cost of N2,600. The campaign offer runs from 2nd of September till the 31st of October, 2019.
Here's why you should Step Up to GOtv Max starting this week:
1. Football lovers can enjoy the resumption of UEFA Euro 2020 qualifiers: Football fans can seat back, relax and watch the UEFA Euro 2020 qualifiers as the start of the fifth game week of the group stages kicks-off this weekend with Germany v Netherlandsthis Friday, 6 September at 7:45pm on Select 4 (GOtv channel 34), England v BulgariaSaturday, 7 September at 5pm on Select 4 (GOtv channel 34), Sweden v NorwaySunday, 8 September at 7:45pm on Select 5 (GOtv channel 36).For more information and upcoming fixtures, visit www.supersport.com.
2. Crime story fans are in for a treat with the brand new season of High Alerton CBS Reality: For those who enjoy crimes stories, High Alert S2 (New Season)will premiere on CBS reality (GOtv channel 22)Saturday, 7 September at 7:20pm.Sometimes though, out of the ashes and ruins comes a hero, or three..Meet the Eblen brothers – they run Nightguard security and, big or small, will tackle all kinds of crime. From street patrols to busting notorious criminals, brothers JP, Zaine and Moolie are an unstoppable force at the helm of this second-generation family business. With a sharp sense of humour, and an uncanny ability to keep the situation light, this crime-fighting family never ceases to entertain.
3. Tag along on the chase to hunt down criminals with Criminal Mindson FOX: On this episode of Criminal Minds, the FBI's assistant director of national security joins the Behavioral Analysis Unit (BAU) as it investigates the quadruple homicide of a group of roommates in St Louis. Catch this episode on FOX (GOtv channel 19)Tuesday, 10 September at 7:45pm.
4. If you are all about woman power, Black Girls Rockis for you!Black Girls Rock (Special)will air on BET (GOtv channel 21)Tuesday, 10 September at 7pm. Founded by celebrity DJ, model and executive producer Beverly Bond, The BLACK GIRLS ROCK! Awards show was created to celebrate the nexus of achievements of exemplary women of colour who break boundaries, blaze trails, and set trends across sectors. Since 2006, the annual BLACK GIRLS ROCK! Awards has honoured an outstanding range of accomplished and inspiring women across generations and genres. BLACK GIRLS ROCK! has been committed to empowering women through media and enriching girls through leadership, education, and positive identity development programs.
5. The kids can relax at home this weekend with a captivating educational show on Jim Jam: What's The Big Idea?Is a programme which centres around Hugo, who wants to find out what play is and why kids love to do it. There are so many games to play, Hugo could play his whole life. Catch this educational show on Saturday 7 September at 3pm on Jim Jam (GOtv channel 61).
For more information on #GOtvStepUp and other scheduled programming, please visit www.gotvafrica.comYou can also follow GOtv @gotvng on Twitterand Instagram, and on Facebook at www.facebook.com/GOtvNigeria.
Access Bank Group's audited H1 results released to the Nigerian Stock Exchange (NSE) on Thursday showed Gross Earnings of N324.4 billion, up 28% from N253.0 billion in the corresponding period of 2018. The growth in gross earnings was driven by 46% increase in interest income on the back of continued growth in the Bank's core business and 22% non-interest income underlined by strong recoveries.
The Bank delivered a Profit before Tax (PBT) of N74.1 billion, a 62% increase from N45.8 billion recorded during the same period in 2018. Profit after Tax (PAT) grew by a similar margin from N39.6 billion in 2018 to N63.01 billion in H1 2019.
Similarly, the Bank posted 34% growth in Operating Income to N202.3 billion from N151.4 billion in 2018. Total Asset was up 31% at ₦6.48 trillion as at June 2019 in comparison to ₦4.95 trillion in December 2018.
Access Bank's Capital Adequacy Ratio (CAR) remained solid at 20.8%, well above the regulatory minimum.
Commenting on the result, Group Managing Director/CEO, Herbert Wigwe said, "Access Bank's performance in the first half of the year reflects a sustainable business model coupled with effective execution as we make solid gains towards the achievement of our strategic goals"
Following the release of the half year results, the Bank also declared an interim dividend of 25k to its shareholders.
"Our focus on retail gained momentum during the period, as continued investments in our channels platform resulted in a 29% contribution to gross fee and commission income, up 92% from the corresponding period in 2018.
The strong retail contribution demonstrates the effectiveness of our continued drive around low-cost deposits, on the back of an innovative digital platform. Asset quality improved as guided, to 6.4% on the bank of a robust risk management approach. This is expected to trend into the future as we strive to hit and surpass the standard we had built in the industry prior to the merger. Similarly, liquidity ratio improved year on year to 49.7%, reflecting deliberate steps to
optimise our balance sheet in order to ensure the group's liquidity position remains robust." Wigwe added.
"Going into the second half of the year, our focus is on consolidating momentum and driving access to financial inclusion through our various agency initiatives. Additionally, we will remain disciplined in our efforts to deliver enhanced shareholder value, as we continue to realise the synergies from our newly expanded franchise" he noted.
About Access Bank Plc
Access Bank Plc. is a leading full-service commercial Bank operating through a network of more than 670 branches and service outlets, spanning three continents, 12 countries and 31 million customers. The Bank employs 28,000 people in its operations in Nigeria and has subsidiaries in Sub-Saharan Africa and the United Kingdom (with a branch in Dubai, UAE) and representative offices in China, Lebanon and India.
Listed on the Nigerian Stock Exchange since 1998, Access Bank is a diversified financial institution which combines a strong retail customer franchise and digital platform with deep corporate banking expertise and proven risk management and capital management capabilities. The Bank serves its various markets through four business segments: Retail, Business, Commercial and Corporate.
The Bank has over 900,000 shareholders (including several Nigerian and International Institutional Investors) and has enjoyed what is arguably Africa's most successful banking growth trajectory in the last twelve years.
Following its merger with Diamond Bank in March 2019, Access Bank became one of Africa's largest retail banks by retail customer base.
As part of its continued growth strategy, Access Bank is focused on mainstreaming sustainable business practices into its operations. The Bank strives to deliver sustainable economic growth that is profitable, environmentally responsible and socially relevant, helping customers to access more and achieve their dreams.
The Federal Government has approved the request for the construction of a new International Airport in Ebonyi State.
This followed a request for the approval of the airport by the state government.
Minister for Aviation, Hadi Sirika conveyed the approval in a letter to Governor David Umahi.
In a letter signed on his behalf by the Director Safety and Technical Policy, Capt T A Alkali of the Ministry, the Minister said the approval followed the visit of a Technical team from the ministry and its agencies to the state on inspection of the proposed site for the airport.
"I am directed to convey the approval of the Honourable Minister of Aviation for the construction of a state-owned/financed International Airport on the inspected site", he wrote.
The Minister, however, noted that the approval is subject to the State Government's fulfilment of certain requirements.
He listed the requirements as strict compliance with the Nigerian Civil Aviation Authority requirements; compliance with all relevant environmental regulations, adherence to the provisions of the subsisting Civil Aviation Act 2006, Nigeria Civil Aviation Policy 2013 and other regulations that may evolve with time; and payment of statutory fees.
Other requirements according to the Minister include: Issuance of Security Clearance fro the Department of State Services(DSS); removal of all obstructions on the site and involvement of the Ministry and its relevant agencies at every stage of the development of the airport to ensure compliance with Standards and Recommend Practices (SARPs).
With the approval, all is now set for the smooth take-off of the construction of the airport.
The airport is to be sited in a big expanse of land at the boundary between Ezza South and Ezza North local government areas.
The approval comes at a time when the only International Airport in the Southeast, located in neighbouring Enugu State has been shut down by the Federal Government indefinitely.
The Federal Government said it shut down the airport to effect repairs on its dilapidated infrastructure including the runway.
Despite playing host to two out of the top three market hubs in the country located in Aba, Abia State and Onitsha Anambra state, the Southeast have lacked adequate infrastructure to aid import and export of goods from the region.
The new airport is expected to help in opening up the zone as well as neighbouring Cross River and Venue States in the South-South and North-Central zones.  (The Nation)
The Governor of Borno State, Prof. Babagana Zulum suffered an attack on Thursday September 5, as gunmen suspected to be Boko Haram insurgents opened fire on his convoy.
The Borno Governor's convoy was attacked in Konduga by 9pm, while returning from a trip to Bama Local Government Area. Zulum had visited Bayo, Kwaya Kusar, Askira Uba and Gwoza as part of his "familiarity and need assessment tour" of the 27 LGAs in the state.
Konduga which has been attacked so many times by a faction of Boko Haram under the control of Abubakar Shekau, is said to be near Sambisa forest.
A source told TheCable, "Luckily the governor, his commissioners and other vehicle in the convoy escaped unhurt but the last vehicle which is an army gun truck was pelted with bullets.
"Immediately after they fired at us, our men in collaboration with the armed personnel from the Federal Special Anti Robbery Squad, retaliated and thwarted the ambush."
This is however not the first time a Borno Governor's convoy will be attacked by Boko Haram insurgents. Kashim Shettima, the immediate past Governor of Borno State was also attacked by Boko Haram insurgents 7 months ago while on his way to Gamboru Ngala, still in Borno.
The Economic and Financial Crimes Comission (EFCC) has arraigned a 60-year-old man who claimed to be a Professor at the Obafemi Awolowo University, Ile Ife in Osun State before a Federal High Court sitting in Ikoyi area of Lagos State for allegedly obtaining money under false pretence and engaging in advance fee fraud.
The arrest and subsequent arraignment of the OAU "Professor" identified as Charles Jide-Oni, stemmed from EFCC's damning findings about the activities of an illegal financial outfit he floated through which he allegedly swindled his victims of several millions of naira. He was however granted bail to the tune of N10 million and two sureties in like sum.
Read the full statement below;
A sixty-year-old man, Charles Jide-Oni, who claimed to be a professor and lecturer at the Obafemi Awolowo University, Ile Ife, Osun State, was arraigned before a Federal High Court sitting in Ikoyi, Lagos State for allegedly obtaining money under false pretence and engaging in advance fee fraud.
The Economic and Financial Crimes Commission, EFCC, Ibadan zonal office, arraigned the 'Professor' and 12 other internet fraud suspects before Justice Nicholas Oweibo, the Federal High Court vacation judge for the Southwest zone, on Wednesday, September 4, 2019.
Jide-Oni's arraignment was sequel to the EFCC's damning findings about the activities of an illegal financial outfit he floated through which he allegedly swindled his victims of several millions of naira.
Due to the bail application filed and argued by his lawyer on his behalf, Justice Oweibo granted Jide-Oni bail to the tune of N10 million and two sureties in like sum. The sureties, the court held, must be of Grade Level 10 in the civil service and must be resident in Osogbo, the Osun State capital.
The judge also ordered that the accused person be remanded in Ilesha prison pending the time he is able to fulfill his bail conditions as he adjourned substantive hearing to October 14.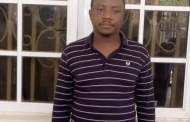 The Economic and Financial Crime Commission (EFCC) in collaboration with the United States' Federal Bureau of Investigation has Emmanuel Adedeji Oluwatosin, one of the 77 Nigerians indicted by the US government over a large-scale scam.
Two cars – Mercedes Benz E550 and Mercedes Benz C450 -, an iPhone, laptops, a modem and SIM cards were seized from his residence.
He was paraded in Sokoto State on Thursday, following his arrest in Kaduna State.
According to the Zonal Head, Abdullahi Lawal, Oluwatosin and his accomplices acquired retirement account information (RAI) and personally identifiable information (PII) of multiple persons which they used to wire funds into newly-created business bank accounts.
The proceeds were then converted to cryptocurrency.
Preliminary investigations, EFCC noted, showed that about N1,437,889,157.15 passed through the suspect's accounts.
Seventy million naira from that money had been traced, said Lawal as he said efforts were on to recover the money.
Meanwhile, the anti-corruption agency has arrested a wanted suspect, Muzakkir Muhammad, in connection with a case of obtaining money under false pretenses and production of fake currencies.
He said the suspect was reported by one of his victims, Abdullahi Ibrahim, after he had defrauded another victim, Samaila Sani, a bureau de change operator to the tune of $33,850.  (SaharaReporters)
Robert Mugabe, who led Zimbabwe with an iron fist from 1980 to 2017, has died aged 95, the country's president announced Friday.
First heralded as a liberator who rid the former British colony of Rhodesia of white minority rule, Mugabe used repression and fear to hold on to power in Zimbabwe until he was finally ousted by his previously loyal military generals.
"It is with the utmost sadness that I announce the passing on of Zimbabwe's founding father and former President… Robert Mugabe," Emmerson Mnangagwa said in a tweet.
"Mugabe was an icon of liberation, a pan-Africanist who dedicated his life to the emancipation and empowerment of his people. His contribution to the history of our nation and continent will never be forgotten."
Mugabe had been battling ill health, and his humiliating fall from office in November 2017, his stamina seeped away rapidly. He was hospitalised in Singapore for months for an undisclosed ailment, Mnangagwa had confirmed earlier this year.
No further details were immediately available about the circumstances of his death, or where he died.
The Mugabe years are widely remembered for his crushing of political dissent, and policies that ruined the economy.
The former political prisoner turned guerrilla leader swept to power in the 1980 elections after a growing insurgency and economic sanctions forced the Rhodesian government to the negotiating table.
In office, he initially won international plaudits for his declared policy of racial reconciliation and for extending improved education and health services to the black majority.
But that faded as rapidly as he cracked down on opponents, including a campaign known as Gukurahundi that killed an estimated 20,000 dissidents.
The violent seizure of white-owned farms turned Mugabe into an international pariah — though his status as a liberation hero still resonates strongly in most of Africa.
Aimed largely at placating angry war veterans who threatened to destabilise his rule, the land reform policy wrecked the crucial agricultural sector, caused foreign investors to flee and helped plunge the country into economic misery.
All along, the Mugabe regime was widely accused of human rights violations and of rigging elections.
The topic of his succession was virtually taboo during Mugabe's decades-long rule, and a vicious struggle to take over after his death became clear among the ruling elite as he reached his 90s and became visibly frail.
(BBC)
Stanbic IBTC Holdings PLC, a member of Standard Bank Group, has donated an ultra-modern lavatory to Abaranje Primary School, located in the Alimosho Local Government Area of Lagos State.
The facility donated by Stanbic IBTC consists of a block of 12 modern toilets – 10 for the use of students and two for their teachers' use. It also includes a septic tank, borehole and overhead water tank.
Speaking during the hand-over ceremony at the school premises, Angela Omo-Dare, Head, Legal Services of Stanbic IBTC, said that the donation was in line with the company's Corporate Social Initiatives.
Giving a background to the project, Angela stated that the Legal Services Department of Stanbic IBTC decided to undertake a CSI initiative that would benefit a public primary school and also address a health challenge.
Angela said: "Some members of the team were charged with finding a suitable project. When they returned, they spoke of a school where 800 children were sharing two pit latrines. The team was unanimous in its belief that this project was the most deserving of all the interventionist measures we considered. The team was determined that the children of Abaranje Primary School II, should have access to modern toilets."
She stated that the CSI project was funded by staff of the Legal Services Department of Stanbic IBTC, with contributions from their friends and family members. She added that Stanbic IBTC matched the funds raised by the Legal Services Department, which enabled the completion of the project.
Urging other corporate organisations to emulate Stanbic IBTC's initiative, Angela stated: "We are grateful that we have been given the opportunity to contribute towards the comfort and health of young Nigerians. We received much joy from the evolution of this project and a sense of pride from its completion. It emphasizes Stanbic IBTC's core value of Teamwork."
In her welcome remarks, Mrs. Oluwabunmi Morenikeji Oteju, a Director in the State Universal Basic Education Board of Lagos State, thanked Stanbic IBTC for donating the toilet facilities and for initiating similar CSI initiatives across primary schools in Lagos State.
She said: "I want to say a very big thank you for building this befitting structure for the children because they are the future leaders. I am also aware that you have several projects relating to provision of benches and tables for children in our primary schools, building/ renovating of libraries and so much more. There are over 1,016 primary schools in Lagos and the government alone cannot cater to all their needs. A lot of stakeholders have to come in to support and Stanbic IBTC is part of the organisations offering support. Projects like these make the learning environment more conducive and the students can learn better under such conditions."
She further pledged that the facilities provided by Stanbic IBTC would be put to effective use, assuring that the infrastructure would be properly maintained.
Mrs. Elizabeth Ogunmola Adebola, the Head Teacher, Abaranje Primary School II, expressed gratitude to the management of Stanbic IBTC. She disclosed that the school had been sharing a block of two toilets with another school when its pit toilet got destroyed three years ago.
She said: "We thank the Legal Department of Stanbic IBTC Holdings for bringing this project to this school. In fact, we were at a point where we didn't know what to do any longer. When members of the Legal Services Department of Stanbic IBTC came, we were very happy when they said that they wanted to build a block of toilets for us. We are thankful for this beautiful toilet facility that has been provided for our pupils so that they can have a taste of good living."
Stanbic IBTC is a Nigerian company which had its roots in Investment Banking & Trust Company PLC, formed on February 2, 1989 with Atedo Peterside as the first Chief Executive. The company has since evolved into a full-service financial institution with 9 subsidiaries all headed by Nigerians.
Stanbic IBTC Holdings PLC has an estimated staff strength of approximately 5,000, 99.9% of whom are Nigerians. Additionally, eight of Stanbic IBTC Holdings PLC's ten-member board are Nigerians
Heineken suddenly transferred the Managing Director of Nigerian Breweries, Nico Vervelde, to Singapore shortly after Nigerian police interrogated him for alleged corruption.
This case would have been buried if journalists Olivier van Beemen and Femke van Zeijl had not picked it up. They recently won De Tegel, the most prestigious award for journalism in the Netherlands, for their revelations about high-end corruption at Nigerian Breweries, a subsidiary of the multinational Heineken. Now PREMIUM TIMES presents their award-winning story for the first time to a Nigerian audience.
I – Nigeria, the Promised Land
On February 6, 2017, Nico Vervelde gives an interview to the Dutch weekly Elsevier. The managing director (MD) of Heineken's subsidiary, Nigerian Breweries (NB), does not get any critical questions. At the Radisson Blu in Ikeja, Lagos, he talks freely about his life as an expat ('I love an international environment'), the phenomenal success of his company and his love for golf and jogging. He has been living in the country for seven years and has no plans to move. 'I'm having a great time in Nigeria.'
Less than three months later, Mr Vervelde suddenly resigns and is transferred to Singapore for a role that is yet to be specified. There is no successor yet. What went wrong?
Mr Vervelde is not just anyone. As the MD for Heineken in Nigeria, he's considered to be one of the most successful managers of the world's number two brewing company (after AB Inbev). Nigeria is in the top 3 of its most profitable markets in the world and by far the most important African country: it delivers about half of the brewer's revenue continent-wide. At the international headquarters in Amsterdam (Netherlands), Nigeria is sometimes referred to as 'the promised land.'
What the Elsevier story doesn't say is that one month before the interview, Mr Vervelde was interrogated at the headquarters of the federal police in Abuja. The questions he had to answer there were considerably more challenging. The police wanted to know everything about a notorious corruption case in which his wife was the prime suspect and he a key witness. The case made headlines in Nigeria and internationally, but was never followed up.
To understand what has happened, we have to go back to a jet-set party in Lagos in 2013, attended by the oil trader, Amadu Sule. On that occasion, Mr Sule is introduced to Clémentine, a woman he describes as 'not young but stunning'. She gives him a business card in the name of her company, Limitless Mind Africa, specialised in musical productions, conferences, artist management 'and more.'
This is no exaggeration. Clémentine does more, much more. Consultancies, for instance, and managing a network of excellent connections. She has a nice proposition: Would Mr Sule consider becoming the oil supplier for Nigerian Breweries?
Coming from the Islamic north and remembering that his recently departed father had always forbidden him to do business with alcohol producers, he hesitates. But he is not that strict himself, and besides, it dawns on him that this is not a matter of a few barrels of diesel for some lorries.
Most of the breweries rely completely on generators that consume millions of litres every year. Of course, he's interested!
But what about the public tender? As a listed company and part of a multinational with operations around the world, Nigerian Breweries has strict procedures for these kinds of contracts. Nothing to worry about, assures Clémentine. In exchange for a fee, she will arrange everything, starting with meeting the MD, Mr Vervelde. Mr Sule is impressed by her straightforwardness and has a good feeling. It is only when he arrives at his home and puts the two call cards next to each other that he notices they carry the same surname. But he considers it impolite to enquire further.
Shortly thereafter, Mr Sule is invited to the Vervelde home in upmarket Banana Island. Here, he also meets Jasper Hamaker, the finance director at Nigerian Breweries. Sule: "He saw opportunities for me," Mr Sule says. And indeed there were. In the autumn of 2013, TMDK Oil Traders, Mr Sule's company, became the oil supplier for the Kaduna and Ama breweries. The latter is Heineken's largest brewery on the continent, located near the city of Enugu. The contract is valid for three years and Mr Sule claims he makes an oral agreement with Clémentine for another two years. Nigerian Breweries is expected to buy 3 million litres per month, making the entire deal worth some $60 million. They agree on a first payment: $200,000 in cash. "I paid and she chucked out the previous supplier," the businessman recalls.
But the honeymoon does not last. Irritation arises when Mr Sule is accused of delivering sub-standard oil, supposedly causing a fire in the Ama brewery. An internal inquiry concludes there is nothing wrong with his product and rumours circulate that the fire may well have been the result of arson, an attempt to tarnish Mr Sule's name. And then there is a drastic reduction in the monthly orders, as the breweries makes a partial change from oil to gas, another setback for Mr Sule. The oil trader says that this is in breach of his deal he had made with Clémentine. Meanwhile, she keeps asking for more money.
And she's not the only one. "Everybody has to be bought off," Mr Sule says, "also at the lower levels."
A Dutch former internal source confirms that suppliers routinely have to pay bribes. "A guard charges you N100 to let you in. At a slightly higher level, you pay N1,000 and once you're at the level of the financial controller, you easily need a couple of million naira if you want to get paid. That's how it works."
Mr Sule is fed up. His people, the Fulani, are known to be proud and headstrong, and he comes from an influential family: they are messing with the wrong guy. When the controller and a colleague demand another $20,000, he pays. But this time he does it through the bank, with proof of payment. He then confronts the top management of Nigerian Breweries and the auditing department. The company is forced to react: both employees are fired and an internal inquiry gets underway, leading to more dismissals. Amsterdam Head Office is also informed and starts its own investigation.
However, Clémentine Vervelde—nicknamed 'Madame'—keeps asking Mr Sule for money. According to the businessman, the total amount is $878,000 at the time he discovers that Nigerian Breweries was swapping his company for another. He claims to know that the company in question is Forte Oil, a long-standing Heineken supplier, but the multinational insists that it is a different supplier. In the end, he finds himself deprived of the extra two years he says he has been promised and for which he claims to have paid 'Madame' an extra commission.
Mr Sule, now angry, visits the Vervelde's residence, where he tells Mr Vervelde that his wife has been playing games with him. Mr Sule says the MD threatens him. "Don't you dare take on Nigerian Breweries," Mr Vervelde is supposed to have said. "Nobody does that, we're too powerful. You had a three-year contract. That's over now. It's best you leave quietly."
II – THE CRIMINAL INVESTIGATION AND INTELLIGENCE DEPARTMENT
The federal police headquarters is located at the Louis Edet House in Abuja, named after the first Nigerian inspector general, who took over from the British in 1964. It is an imposing white edifice, standing in an area with many other public sector buildings. The president resides in the Aso Rock Presidential Villa, a few minutes' drive away; Parliament and the High Court are also nearby.
Louis Edet House — and more precisely the Criminal Investigation and Intelligence Department – is where Clémentine and Nico Vervelde present themselves on January 23, 2017. The department is a special elite unit of the Nigerian Police – it also deals with Boko Haram. Mr Sule is suing Clémentine for fraud and the case is taken seriously enough for her to be named as the suspect. Mr Vervelde and some other board members and managers at Nigerian Breweries are being heard as witnesses.
On this day in January, the police motto 'The police is your friend' doesn't apply to the Verveldes.
The commissioner ignores telephone calls from influential compatriots, recruited by the beer brewer's top management (according to an internal source) to put pressure on the police to drop the case. Before the interrogation, Nigerian Breweries' lawyer was issuing threats: "This is a large company. Whatever it is you are planning to do, I'd be careful." However, the police are not to be intimidated. Their case is solid, according to insiders.
Mr Vervelde has a hard time. "After twelve hours of questioning he looked terrible, he had suddenly aged ten years," one of those present remembers. With Clémentine, it's not as clearly visible, but she suffers too. From the same source: "The commissioner played a very smart game. He sat at his desk, behind a huge pile of papers. She could not handle the situation and just kept on talking. He was feeding her, waiting for the exact right moment to give her another morsel by asking the right question."
At first, Clémentine denies everything, but in the end, she admits that she has taken money. For others, she adds. The commissioner piles on: "Well, in that case, I would imagine that it's in your interest, too, that we pursue our investigation thoroughly." Relieved, Clémentine wants to go home, but she needs a guarantor for her liberation or else, she would have to spend the night in a police cell. The commissioner comments: "I'm afraid you will find the accommodation we offer here not up to the standards you are accustomed to."
Various sources state that the guarantor turns out to be Femi Otedola, Forte Oil's top manager and one of Nigeria's richest businessmen. Remarkably, Nico Vervelde has been on the board of this supplier since December 2016, as a supervisor. Clémentine may go, but she's considered a flight risk and has to leave her passport behind.
In the end, it doesn't come to a trial. Mr Sule agrees to a settlement of more than two million dollars, an amount largely in excess of what he has paid in commissions. Heineken decides to clean up its Nigerian subsidiary: those directly or indirectly involved have to look for other jobs and Mr Vervelde disappears to South East Asia.
Sources within the police say that the Heineken manager can count his blessings.
"Had this gone to trial, he would have been prosecuted for abuse of power. Why did Clémentine have an office paid for by Nigerian Breweries while the company did not employ her? Abuse of power is a form of corruption, which is punishable. The prison sentence depends on the evidence provided: it can be anything between three and seven years," a police source said.
Moreover, and in relation to the case, the police also discover that Nigerian Breweries has been evading taxes.
"Each contract of this nature implies payment to the revenue authority. Nigerian Breweries had promised to pay N120 million in withholding tax on behalf of Sule, who later discovered that the company had only paid 19 million. So that is a N100 million fraud case," the source said.
Heineken denies that its subsidiary was involved in tax evasion.
III – NOT AN INCIDENT, BUT A SYSTEM
"A good shopkeeper, a solid director, one that every company needs." That is Nico Vervelde, as described by a former colleague: "But I did find him a little hesitant, slightly weak. And if your wife happens to be larger than life, you're being overshadowed. It was never clear who was in charge:
Mr or Mrs Vervelde. That does not work in Nigeria. You must always be hyper-alert and radiate authority."
The former colleague finds it strange that Mr Vervelde still works for Heineken. "This is not the first time his wife has been linked to controversial practices, and he has always maintained that he knew nothing of her activities. We found that questionable. I assume that in a marriage there is no Chinese wall."
"Nico must have known," says a former manager who worked frequently with him. "He comes across as someone with integrity and his reputation is good. At first, I really thought he didn't know, that he was naïve. But it's simply impossible. It's too big, it has too many tentacles. And he's the boss."
Various sources within the company say that the TMDK Oil Traders affair is just the tip of the iceberg and that it is unfair to blame just Clémentine (and Nico) for everything. What emerges from a series of conversations with those directly involved is the image of senior managers, both Dutch and Nigerian, indulging in all kinds of controversial deals and shady business practices in order to enrich themselves. It infected the entire organisation. An insider speaks about a company "rotten to the core, with fraud and corruption happening at every level." He remembers the first clean-up. "It was mainly cosmetic. The top echelon stayed in place and the system did not change. Almost everyone gets their share, so what you have is a tight and unbreakable chain."
The system revolved around Clémentine. "Everyone in the industry knew that she held all the power," says a former Nigerian manager. "If you wanted to get anything done at Nigerian Breweries, go see Clémentine." Whether it was a house for a new expat or airline tickets for a business trip, everything went through her hands. With Limitless Mind Africa, her company, she frequently organised conferences for Nigerian Breweries, usually at the Eko Hotel on the luxurious Victoria Island in Lagos. According to insiders, the hotel director Danny Kioupouroglou, who was a good friend, would give her a substantial discount while she would overcharge the brewery and pocket the difference.
Clémentine was also involved in sponsoring contracts, from small cultural occasions to major television events, and again there are indications of misappropriation. One person involved says:
"You would go to such an event we were sponsoring to the tune of N40 million without any idea where the money had gone. The figures were often highly dubious."
After the settlement with Mr Sule, many sponsoring contracts were abruptly ended. A prize for visual artists and a famous writers' workshop organised by best-selling author Chimamanda Adichie did not survive. Heineken says these were austerity measures, but close associates are convinced that the real reason is that the managing director's wife was involved. This time, a real house-cleaning was needed.
IV – GREAT CONNECTIONS WITH THE CEO
Clémentine Vervelde-Murekatete, which is her full name, was born in Rwanda where she maintains good relations and commercial interests. For instance, she mentioned to Mr Sule that RwandAir, the national airline with daily flights from Lagos into Kigali, could be another potential client. In Rwanda itself, Clémentine runs a transport company, about which a former Heineken top manager has this story: "She said that she'd be given a contract with our brewery to use those lorries but the director said: I don't know anything about that, we don't work that way. Next thing we saw was Ms Vervelde kicking up an almighty fuss, going all the way to the highest level in Amsterdam to get what she wanted. And again, Nico supposedly didn't know. This I find hard to believe: a woman is investing in lorries to deliver beer, her husband is a man from the beer business—and they wouldn't discuss these things?" Various inside sources say that, after the Executive Board intervened, Clémentine was allowed to distribute the crates of beer, which Heineken denies.
Nico and Clémentine met in the early 1990s after he had been appointed marketing director at the Heineken subsidiary in Rwanda. He succeeded none other than Jean-François van Boxmeer. Several sources who know the Vervelde couple confirm that they have had close ties with the chairman of Heineken's Executive Board for well over twenty years and consequently enjoy some form of 'protection'. One manager in Nigeria was struck by how quickly Clémentine knew about matters that had been relayed confidentially to Head Office. "Without protection, Nico would no longer be working for Heineken," says a former colleague. Those in the know are also astounded by the fact that Mr Van Boxmeer allowed Nico Vervelde to take up the board position at Forte Oil, an important supplier. "That smells very strongly of a conflict of interest. In the Netherlands, this would very likely not have been permitted," a former director in Nigeria says.
Has Heineken committed punishable offences in Nigeria? "If this story is correct, then we're looking very likely at a classic case of corporate criminality, in this case, bribery and private corruption," says Wim Huisman, a professor in criminology at the Vrije Universiteit Amsterdam.
"Bribery is often linked with governments but that does not need to be the case. When companies do it, the law applies as well. Mind you, it is not illegal to award contracts to those close to you, but when bribes have been paid it's a different story."
A former expat is outraged: "To me, this represents everything Heineken does not stand for.
"Everywhere in Nigeria, we write INTEGRITY in capital letters and we forbid our drivers to pay even the smallest bribe. We want to show that you can function in a climate where fraud pervades, that you don't have to participate. And now that it is supposedly happening at the highest level it should all be swept under the carpet? No way."
ON THIS STORY
Heineken asked us not to publish this story, not because it is not truthful, but because it would be too painful and damaging to Nico and Clémentine Vervelde. Nico Vervelde refused to be interviewed for this story. We were only allowed to ask written questions.
This article is based on almost a year of investigation, both in Nigeria and the Netherlands and on dozens of conversations with people involved. Many sources wish to remain anonymous, because of potential consequences. Their names have been shared with the editor of Follow the Money, the Dutch website where this story was first published.
HEINEKEN'S REACTION
Heineken reacted extensively to this story and does not deny the settlement took place, nor that there was widespread corruption taking place within its Nigerian subsidiary. Heineken states that the Verveldes claim themselves they are not corrupt (but the company doesn't state: De Verveldes are not corrupt).
Heineken writes that it conducted several internal investigations, ordered both by the mother company and NB, after the complaint on corruption from Mr Sule. For the company, the results were no cause for disciplinary actions against Nico Vervelde. However, the situation had become 'unworkable'. Mr Vervelde resigned and was offered another position, "partly because of his experience and track record."
Heineken admits that CEO Jean-François van Boxmeer and Nico Vervelde have known each other for a long time, but claims that does not give Mr Vervelde any privileges. The company states its Integrity Commission is carefully examining allegations of corruption and fraud, with the help of the Global Business Conducts and Internal Audit departments.
Heineken denies that Clémentine Vervelde got a contract for beer transports in Rwanda and claims there was no question of tax fraud in Nigeria. "There is no withholding tax for the local delivery of goods, in this case, petrol and diesel. There is only withholding tax for the delivery of some services, which has been applied in this case because TMDK delivered not only diesel but also service. So there is no base for these allegations."
Nigerian Breweries reacts
The company on Wednesday reacted to the investigative report which exposed how the company protected Nico Vervelde, its Dutch Chief Executive Officer suspected of corruption.
The company reacted in a disclosure notice signed by Sade Morgan, the Corporate Affairs Director at Heineken.
The latest report has now exposed the details of the resignation. Based on almost a year of investigation both in Nigeria and the Netherlands, the report revealed how the company's former Nigeria CEO was linked to cases of bribery, corruption, and abuse of office.
In its response Wednesday, the company claimed that it does not tolerate bribery or corruption at any level of its operations.
"If an allegation emerges, a thorough investigation is carried out to establish the facts and, if necessary disciplinary action is taken – regardless of the role or position," it said.
In the case exposed in the report, the company said it took exactly that approach and moved quickly to comprehensively address the issue.
"Both the Board of Nigerian Breweries and HEINEKEN conducted an internal and external audit and investigation," the statement said without indicating if it found Mr. Vervelde culpable or not.
The company added that it remains committed to upholding Nigerian Laws and managing its operations in the most responsible and compliant way.
Source: PREMIUM TIMES
Africa's largest retail bank, Access Bank Plc., Wednesday collaborated with the Lagos State Employment Trust Fund (LSETF) to launch the LSETF W Initiative aimed at economically empowering women in Lagos State.
The initiative, which has a total loan portfolio of N10 billion, is targeted at women-owned businesses (with at least 50% ownership share) in operation for 1-5 years.
While delivering his address, Access Bank Group Managing Director, Herbert Wigwe said: "Access Bank is fully committed to bridging the existing gap and provide women with the support they need to successfully implement their business ideas".
"Looking at the number of women present here today, I don't think the initial N4billion we set aside to help women will be sufficient and based on that, the initiative fund will be increased to N10billion. Through partnerships with organisations such as LSETF, Access Bank will continue to help women break boundaries, reinvent the status-quo and take advantage of opportunities provided by technology and quality financial systems to make significant impact on the economy of Lagos State and Nigeria as a whole," Wigwe added.
Delivering his keynote address, the Lagos State Governor, Babajide Sanwo-Olu expressed his delight at the timeliness of the initiative, including its immense opportunities for residents in the state.
"The LSETF W Initiative has come at a very critical time for our economy, as we believe that women have a great role to play towards achieving the developmental results that we seek in our state," said Sanwo-Olu.
"It is important to leverage on the accumulation of resources built through relationships, trust, goodwill, and influence between the State and other private sector stakeholders to make things happen quickly.
We are very proud of Access Bank as they continue to make available their financial and business expertise as well as their funds towards ensuring that our women are given adequate access to resources that will aid their successes," he added.
Access Bank has a long history of supporting female empowerment, offering over 8,000 personal loans valued at over N10.6billion since 2018, with over 330 loans given to women in business valued at over N16.6billion.