Dr Uzoma Emenike (United States)
Ambassador Tijani Muhammmad-Bande (UN)
Adeyinka Asekun (Canada)
Yahaya Lawal (Saudi Arabia)
Ibrahim Kayode Laaro (France)
Modupe Irele (Hungary)
Eniola Ajayi (The Hague, Netherlands)
Julius Adebowale Adeshina (Togo)
Oma Djebah (Thailand)
Ademola Seriki (Spain)
Umar Sulieman (DRC)
Kevin Peter (Czech Republic)
John Usanga (Guinea Bissau)
Elejah Onyeagba (Burundi)
Philip Ikurusi (Argentina)
Tarzoor Terhemen (Namibia)
Paul Adikwu (The Vatican, Italy)
Al-Bishir Al-Hussain (Morocco)
Monique Ekpong (Angola)
Ominyi Eze (Zambia)
16. Yamah Musa (Mozambique)
C. O Ugwu (Poland)
Hajara Salim (Malaysia)
Obiezu Chinyerem (Ireland)
20. Ali Magashi (South Korea)
M. A Markarfi (Brazil)
Hamisu Takalmawa (Tanzania)
Jazuli Gadalanci (Kuwait)
Sadiya Nuhu (Romania)
Olorundare Sunday Awoniyi (Venezuela)
Abioye Bello (Pakistan)
Zara Umar (Malawi)
Henry Omaku (Sierra Leone)
Sarafa Isola (United Kingdom)
Opunimi Akinkugbe (Greece)
Adejaba Bello (Mexico)
Adeshina Alege (Ukraine)
Folakemi Akinyele (Philippines)
Abdullahi Yibaikwal Shehu (Russia)
Maureen Tamuno (Jamaica)
Faruk Yabo (Jordan)
Adamu Hassan (Vietnam)
Abubakar Moriki (Japan)
Mohammed Rimi (United Arab Emirates)
Jidda Baba (China)
Gani Modu Bura (Lebanon)
Yusuf Tuggar (Germany)
Baba Madugu (Switzerland)
Deborah Illiya (Congo)
Abubakar Danlami Ibrahim (Trinida & Tobago))
Haruna Manta (South Africa)
Yusuf Yunusa (Kenya)
The career ambassadors
C.O. Nwachukwu (Mali)
Kefas (Portugal)
R.U Brown (Gabon)
G.A Odudigbo (Liberia)
O.C Onowu (Brussels)
Y.S. Suleiman (Iran)
E.S. Agbana (Equitorial Guinea)
B.B.M. Okoyen (Cuba)
G.M. Okoko (Deputy Head of Mission to Switzerland)
M.I. Bashir (U.S. deputy ambassador)
M.O. Abam (Italy)
A.E. Allotey (Deputy France)
E. Edokpa (Deputy Permanent Representative to The UN)
N. Madubuike (Australia)
Adamu Lamuwa (Senegal)
Mr. Innocent A. Iwejuo (Deputy Ambassador to Ethiopia)
S. Abubakar (Guinea)
D. Umar (Austria)
Sule (India)
Y. Hamza (Ghana)
Rimi (Egypt)
S. Ahmed-Remawa (Deputy Cameroun)
Manu (Gambia)
Ocheni (Deputy Ambassador to Germany)
Yusuf (Turkey)
Abdulraheem (Burkina Faso)
A. Adedeji (Gabon)
U. Ogah (Indonesia)
A. Musa (Rwanda)
A. Kolo (Israel)
S.O. Olaniyan (Sudan)
R. Adejola (Switzerland Permanent Mission);
E. Awe (Deputy envoy to China)
O. Aluko (Benin Republic)
A. Alatishe (Deputy Ambassador to Russia)
A. Adeleke (Ethiopia)
S. Adamu (Cote d'ivoire)
Charles (Southern Sudan)
Z M. lfu (Zimbabwe)
B. Hamman (Sweden)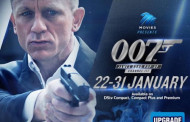 Owing to the massive success of the M-Net Movies Presents 007 James Bond pop-up channel early last year and the forthcoming instalment in the James Bond film franchise, M-Net is once again casting its spotlight on the suave, debonair, and dapper dressed secret service agent James Bond.
This time, however, the thrilling pop-up channel on DStv channel 111 will not only be open to DStv Premium customers but also, DStv Compact Plus and Compact customers for the first time, starting from Friday, 22 January 2021, until Sunday, 31 January 2021.
This will allow for a vast number of DStv subscribers, consisting of diehard Bond fans as well as new, young 007 admirers, to indulge themselves, from 09:00 AM to 9:00 PM, in the ultimate James Bond experience. It includes the dapper tuxedos, fast cars, sultry bond girls, exotic locations, mind-blowing gadgets, deadly villains, and martinis, which are served shaken, not stirred, of course.
The ten-day Bond film marathon, featuring all seven charming actors who have played the iconic 007 roles; from Pierce Brosnan to Sean Connery, Roger Moore and current Bond Daniel Craig will showcase every 007 film ever made in this highly popular film franchise.
The movies will be screened chronologically, starting with the first film in the series released 59 years ago, Dr. No (1962), to the latest Bond film and box office hit, Spectre (2015).
Viewers can watch this pop-up channel from any device (smartphone, laptop, or tablet) at any time, anywhere and enjoy multiple screens at home, using the DStv streaming service. All the films that will be screened as part of the pop-up channel will also be available on DStv Catch Up until Sunday, 28 February 2021.
With the Step Up offer, customers on DStv Yanga that upgrade to DStv Confam, will get a free upgrade in 48hrs to DStv Compact package to experience the James Bond Pop Up channel 111 and more
Visit the M-Net Movies website for schedules and more information at m-net.dstv.com, or www.dstvafrica.com and join the conversation using the hashtag #MM007.
The presidential taskforce (PTF) on COVID-19 has asked Nigerians to do everything possible to avoid a second lock down amid the rising cases of COVID-19.
At a media briefing in Abuja on Monday, Boss Mustapha, chairman of the PTF and secretary to the government of the federation, said the country is in a "difficult situation".
He said government and citizens must be alert, take responsibilities and balance lives and livelihood to avoid a second lockdown.
"​Let me remind you that the pandemic is raging and all tiers of Government and citizens must keep their hands-on-deck," he said
"We are in a difficult situation in which a balance must continue to be struck between lives and livelihood.
"We are considering all options while hoping that broad cooperation will be received. We must do everything possible to avoid a a second lockdown in Nigeria."
Commenting on the resumption of schools in several states, Mustapha asked states to strict adhere to "non-pharmaceutical interventions" to avoid escalation of COVID-19 cases.
"​While we note that several States have proceeded with the resumption of schools, the PTF recommends strongly that very strict adherence to Non-Pharmaceutical Interventions should be enforced by the States to avoid the escalation of cases. The PTF will continue to dialogue with the Governors and the Federal Ministry of Education to closely monitor the situation," he said.
Addressing the issue of vaccines, he said: "The positive news about vaccines remains high in the ranking of discussions nationwide. Nigerians are assured that the PTF will ensure that the vaccines to be approved will be safe and effective. We must however work together as foot soldiers in the vaccine advocacy so that we can eliminate the pandemic."
The Nigeria Centre for Disease Control has recorded 1,617 new cases of the  CoronaVirus Disease (COVID-19) in the country.
The NCDC disclosed this on its official website  on Monday.
The country has so far tested 1,172,234  people since the first confirmed case of COVID-19 was recorded on February 27, 2020 in the country.
The public health institute also reported an additional 14 deaths, bringing the total number of casualties from the virus to 1,449.
It said that till date, the country had recorded 112,004 COVID-19 infections with 89,939 cases successfully treated and discharged in the country.
The NCDC said that the 1,617 new cases were reported from 17 states and the Federal Capital Territory (FCT) in the last 24 hours.
The agency said that almost 50 per cent of the new cases recorded on  Monday were from Lagos, with 776 infections.
Other states with new cases were Kaduna-147, Kwara-131, FCT-102, Plateau-78, Edo-59, Ogun-53, Osun-45, Rivers-37, Taraba-36 Nasarawa-34, Adamawa-33, Kano-26, Delta-20, Ebonyi-16, Bayelsa-11, Gombe-11, and Borno-2.
NCDC said that 622 more patients were discharged after testing negative to coronavirus across the country in the last 24 hours.
The health agency said that those discharged included 289 community recoveries in Lagos State managed in line with the extant guidelines.
It said that a multi-sectoral national Emergency Operations Centre (EOC), activated at Level 3, was coordinating response activities nationwide.
The country  has witnessed a surge in new cases since the Federal Government announced a second wave of the pandemic in December 2020.
The snapshot of the country as at Jan. 17, was Cases: 110,387, Active Cases: 22,156 20.34 per cent, Discharged: 89,317 78.36 per cent, Fatalities: 1,435 1.30 per cent and Tests: 1,172,234, all spread across the 36 States and the FCT.
In week two of 2021, the statistics revealed the following:Cases: 10,300, Deaths: 77 and Active Cases 19,635.
All these numbers represented increases compared with the numbers from week one, 2021.
Also one in every five people tested in the country within the passing week turned out positive.
Despite the surge, schools have reopened in most states across the country under Federal Government's directive.
While critics have faulted the re-opening, the government says return to the classrooms should be done in line with COVID-19 regulations such as social distancing and wearing of face-masks.
The Jigawa State Governor, Alhaji Muhammadu Badaru Abubukar, has urged Nigerian youths to key into the digital technologies and focus more on critical thinking in order to find solutions for Nigeria's economic and security challenges.  According to the governor, that is the only way to move the country forward.
Governor Badaru made this call at the 1st Jigawa Innovation Summit with the theme: 'Creating a Viable Innovative Ecosystem for Economic Development' organised by the state government in collaboration with National Information Technology Development Agency (NITDA) and Youth Coalition for Development (YCD), an NGO that canvasses youth engagement in changing the status quo for the betterment of Nigerians.
The governor said it is only through critical thinking that the minds of Nigerian youths can be opened, so that they can look around their environment and see the opportunities around them that they can turn into business and create jobs, adding that the more problems are being solved, the more income can be generated.
He further said that the vision and focus is to bring world of innovations to the state, noting that oil economy is almost over because of what is happening around the globe – electric cars are on the rise, solar energy is becoming cheaper, wind energy becoming supportive, and the unknown fuel energy-drive currently ongoing can surely drop the demand of oil, and if this happens, national income will continue to decline and that will affect all the states of the federation, including Jigawa.
"We have to look at the areas where we have competitiveness and see how best we can make our economy work through those areas. Like I have always said, we can achieve this largely in Agriculture.
"We have vast land and water for irrigation in Jigawa. We will continue to focus on how to develop Agriculture and its value chain.
"I want to challenge this Summit to see how best we can to improve in what we are doing and how best we can to create jobs around the value chains in Nigeria digitally.
"We have Informatics Kazaure that produced so many IT professionals in the country. So I expect this Summit to bring to our table advises in our educational arena so that we can do more in developing our youth by making them employers, not just employee," he added.
While delivering his speech, the Honourable Minister of Communications and Digital Economy, Dr Isa Ali Ibrahim (Pantami), commended Jigawa State for its drive in Digital Economy, noting that the State Government showed its willingness to support the effort of the Federal Government and collaboration in order to develop indigenous digital economy in the country.
Dr Pantami said the rate of unemployment in the country motivated Ministry of Communications and Digital Economy to think outside the box by focusing more on creating potential employers rather than potential employees.
He said, "If you enrolled people in university and they graduated without sufficient skills, they will never be self-reliant, they will always go around looking for jobs. But when you provide digital skills for your citizens, they will be employers of others, which Jigawa Innovation Summit should also focus on.
The minister cited Jeff Bezos, owner of Amazon, second richest person in the world, as the perfect example potential employer, who million of people are working under him.
He stated how Netherland used digital technology to boost its agricultural activities despite having lesser landmass compare to some states in Nigeria. He added that if Jigawa State deploy digital innovation to agriculture it will go along the way in creating many jobs and generating revenue for Federal and State Government.
On his part, the Director General, National Information Technology Development Agency (NITDA), Mallam Kashifu Inuwa Abdullahi, CCIE, while giving a Keynote Address, recalled that the journey to Innovation Summit is more exciting than the theme of the event, because the journey started in January last year when the Honourable Minister of Communications and Digital Economy, Dr Isa Ali Ibrahim (Pantami) commissioned Hadejia Community IT Centre.
He said, "While delivering his Keynote Address at the commissioning, the Honourable Minister explained potential benefit of Digital Economy in our country and Jigawa State in general. Our governor showed interest in Jigawa State's readiness to embrace the initiative, and the Honourable Minister responded positively by directing me to engage all the stakeholders to ensure Jigawa benefit immensely from Digital Economy."
"Whatever the state government, ministry and NITDA are doing are in line with President Muhammadu Buhari's economic diversification agenda, therefore all the credits should go to Mr President, because he campaigned before election and after he was voted to lead the country, he appointed my boss and mentor as minister, who also recommended me for this position," he added.
Mallam Abdullahi opined that with new measures being put in place in regard to innovation and also what Governor Muhammadu Badaru Abubakar is doing in the state, Jigawa is in the forefront of zero-oil revenue.
He explained that innovation has been generally defined as the processing and taking idea from inception to impact, adding that innovation is not all about Information Technology, it is also something that has to do with invention, in terms commercialisation, business model, customer experience and organisational structure.
The DG said the event organised by Jigawa State Government in collaboration NITDA and YCD, attended by IT experts, entrepreneurs, academia, private sectors and other stakeholders is put heads together and look for competitive advantage in Jigawa; look at what each local government has, and come up with a strategy that can help unlock opportunities and create prosperity for the citizens.
"Jigawa State has a lot of potentials in terms of agricultural resources. Jigawa is the largest producer of dates, hibiscus and gum Arabic in Nigeria, and largest producer of sesames in the whole of Africa. The state also stands third in rice production, and we are utilising less than 10% of our arable land. Recently, His Excellency, the Executive Governor of Jigawa,
Muhammadu Badaru Abubakar negotiated with stakeholders from Mexico to boost hibiscus production, which is a big plus for us as a nation."
"All these can be achieved through digital technologies; this is why we are building IT centres across the country. So far, we have established 18 IT community centres out of 27 local governments, and we will build in the remaining ones. This is to prepare our future generation and create job opportunities, not only government jobs, but for youths to become self-reliant.
"We are coming with strategy where the state government can provide enabling environment that will unlock opportunities. In some countries, government job is the last resort, because you will make more money in business than in government; you will have more time in your private business than government," he concluded.
Advised FG On Building A Virile Inter-Agency Socio-Security Operational Networks.
The apex Yoruba body: Igbimo Apapo Yoruba Lagbaye: the umbrella body to the Yoruba Council of Youths Worldwide and Yoruba Council of Women Worldwide urgently call on all Yoruba Obas, High Chiefs, Elders, Government Functionaries, great sons and daughters of Olofin Aye Agbaye to pray and rally maximum supports for Chief Sunday Adeyemo Igboho on his quest towards ensuring internal sanity and protection of all inhabitants leaving in Yoruba Land is guaranteed and sustained, as well as defending any form of aggression from external invaders, led by some identified clans and dreaded Fulani terrorists and bandits currently operating within Yoruba Land, having successfully destroyed large parts of the Northern regions, now emboldened to launch spiral coordinated attacks in the Southern regions of Nigeria.
While using this medium to caution all Hausa Fulani leaders to rise in support of the Yoruba now, if they desire assured peaceful cohesiveness and coexistence in the Yoruba Land.
However, in as much as we are constrain to react out of profused provocative stands of one Miss Hauwa daughter of the Seriki Fulani of Kishi threatening that they owned the President of Nigeria, nor do Yoruba brought Land from heaven?
Furthermore, stating vulgar words against Chief Sunday Igboho, we demand for immediate retraction and urgent caution against any similar occurrence of unwarranted killings in the whole of Yoruba land henceforth, while advising all Kara markets cohabited by Fulani conclaves in Kishi, Igangan, Ibarapa and other areas of Oyo State to shut down till all investigation and unravelling of all terrorists perpetrating evils within the region is optimally achieved respectively.
It is important we Yoruba work in unison on holistic security management, because what one body or person does unilaterally,could grossly affects the whole of Yoruba land, hence the need to collectively build unbiased synergy and unity towards total liberalisation of the Yoruba Land.
We keenly watched the trending video of how Fulani terrorist herders killed, rape and maim our people, continuous criminal activities of kidnapping with huge ransom paid daily remains precariously unending menace.
We are aghast to state that this evil marauders at will gruesomely killed countless numbers of our people daily, for instance they recently killed a medical Doctor and philanthropist business investor from Germany on his farm just because he cautioned against massive destruction of his farm land, and the following day they slit his throat with daggers and shot him dead.
It is based on this extreme necessity that we supports the ongoing efforts of Chief Sunday Adeyemo Igboho on his clarion call for vacation, while the Igbimo Apapo Yoruba Lagbaye eqaully call for an harmonized 7 days vacation ultimatum notice against all forms of criminalities in the whole of Yoruba Land: Ogun, Oyo, Osun, Ondo, Ekiti, Lagos, Edo, Delta, Kwara and Kogi and other nexus Yoruba group areas in the Northern and Southern regions of Nigeria respectively.
Particularly, we emphatically warned against the confrontational attrition of war led by the Fulani communities in Kishi and other identified bandits occupants accused of kidnapping and maiming of innocent Nigerians.
It was seen in the trending video how the Fulani youths brought out guns to attack Chief Sunday Igboho led team during the warning peaceful rally, but later ran into the bush paths of Igangan town.
In view of the good intention to clear Yoruba Land of all debris of criminals and terrorists, it is also imminent to act cautiously, inorder not to violate the fundamental rights of fellow Nigerians, which could snowballed into a huge unmitigated civil ethnic unrest and volcanic war.
We hereby call on Chief Sunday Sunday Igboho and other leaders of Thought in Yoruba Land to convene an emergency security and intelligence Committees, that will aggressively avert, abate, manage and bring under control the ongoing provoking internal security infractions in Yoruba Land, especially Oyo State.
We equally call on the President Muhammadu Buhari led Federal Government of Nigeria alongside all the State Governors to rise up to their responsibilities of building a strong public confidence and thrust, most importantly, we demand for a state of emergency in the Nigeria's Security and Socio-Economic sectors.
We humbly call on His Imperial Majesty, Ooni Adeyeye Enitan Ogunwusi, Ooni of Ife, Oba Lamidi Olayiwola Adeyemi 111, Alaafin of Oyo, Oba Sikiru Adetona, Awujale of Ijebu Land, Oba Fredrick Obarutan, Olugbo of Ugbo Kingdom, Oba Saheed Elegushi, Elegushi of Ikate Land, Chief Olusegun Obasanjo, Pa Ayo Adebanjo, Prof. Banji Akintoye, Vice President Yemi Osinbajo, Asiwaju Bola Ahmed Tinubu, Chief Bisi Akande, Chief Olabode George, Aare Gani Adams, Chief Sunday Igboho, Chief Ebenezer Babatope, Dr. Olajide, Chief Alani Akinrinade, Mrs. Folorunsho Alakija, Mr. Femi Otedola, Mr. Yinka Odumakin, Mr. Victor Taiwo, Chief Mrs. Tokunbo Awolowo Dosunmu, Erelu Lola Ayorinde, Aarebirin Ajetoke Oyekan, Erelu Dosunmu, Mrs.Ibukun Awosika and Chief Segun Odegbami to lead a frontal emergency security dialogue within the next 7 days either virtual via Zoom or Physical(Under strict Covid 19 Rules), as the case may be.
Inorder not to fall out of the law, we appeal to our noble legal icon, Chief Afe Babalola, SAN to lead a formidable Legal team of erudite Yoruba Lawyers that will continue to work assiduously and brace up for any eventuality.
Also, in the same vein we urgently appeal to His Divine Grace, Oba Isooro O.O.O Dada, Obalesun Obatala Agbaye to lead all traditional spiritual and terrestrial leaders in Yoruba Land and beyond for an emergency intercessory prayers, appeasement and invocation of the Yoruba mythology and spirituality, conspicuously expected to lead to the total atonement, unity, economic growth, social wellbeing and peace in Yoruba Land, and by extension Nigeria as a whole.
We are equally calling Pastor Enoch Adeboye to rally prayer supports from all Yoruba Christian leaders, while appealing to His Eminence to kick start a marathon fasting and prayers within 7 days, while Sheik Bulalah is expected to lead all Yoruba Muslims to perform similar islamic prayers in 7 days, inorder to achieve an unprecedented turning point in Yoruba Land.
Lastly, the entire Yoruba Women and Youths must play active and positive roles in this fight against terrorism, hence the need for Aare Oladotun Hassan,Esq to consult with all the umbrella youths and students bodies in Yoruba Land, for maximum outputs on information and intelligence sharing, building strong alliances with all other youth groups domiciled in Yoruba Land towards attaining overall collective successes.
In view of the ongoing long war against terrorism, we are in doubt of the the will power to forcefully and effectively deliver on the promises to end terrorism in Nigeria, considering the high level of complicity going on within the military's highest echelons.
We are frustrated and dissatisfied with the wrongful treatments of some of our Yoruba serving and late officers ie: Flt Officer Arotile whose death still remains a mystery, another is Genral Adeniyi who was demoted by the current Lft. Gen. Tukur Buratai led Nigerian Army, just because he raised fundamental objections against the compromised modus operandi in the endless war in Sambisa tagged "Operation Lafiya Dole", and other ancillary casualties and respected and experienced officers in like manners ,who died in a clandestine most crooked and suspiciously wicked manner in the line of duty.
Fundamental Demands:
We laconically demand the immediate provisions of sophisticated armories and technological drones supports in the fight against terrorism in Yoruba Land.
We demand adequate funding for our local security Networks led by Amotekun, Vigilante, OPC, OLM, YCY, Agbekoya and other security agencies of government, while we implore that Chief Sunday Igboho needed to be encouraged and drafted to lead the whole of the coalition of all Yoruba local security Civilian Joint Task Force Base, to be headquartered in Ibadan, Oyo State.
We salute the governors of Oyo, Lagos, Osun, Ekiti, Ondo and Ogun states on their relentless sacrifices and monumental commitments towards the unity, peace, growth and development of the Western Nigeria Security Networks- code named: "Operation Amotekun".
God bless Nigeria.
For: Igbimo Apapo Yoruba Lagbaye.
Aare Oladotun Hassan,Esq,
Global President.
Akowe Oodua Adekanbi Siyanbade,
Global Secretary General.
Vice President-elect Kamala Harris will resign from the Senate on Monday, according to an aide.
The Californian Democrat's resignation comes two days before she becomes the nation's first female vice president, and the first person of colour to hold that office.
Harris has notified Democratic Governor Gavin Newsom that she will resign Monday, her aide said.
Newsom announced in December that he would appoint Secretary of State Alex Padilla to her Senate seat, and Padilla intends to run for a full Senate term in 2022.
Padilla said on a Friday press call that it is `very likely' he will be sworn into the Senate on Wednesday, Inauguration Day.
Padilla will be the Golden State's first Latino senator.
But Harris' exit also means that no Black women will be serving in the chamber.
In her new role as vice president, Harris will serve as president of the Senate and cast tie-breaking votes.
After Democrats won a pair of runoffs in Georgia earlier this month, the Senate will be evenly divided between Democrats and Republicans. Harris' tie-breaking vote gives Democrats the majority in the chamber.
Harris has already been utilising her relationships on Capitol Hill as President-elect Joe Biden's administration looks to quickly fill top Cabinet posts.
Harris' aide said she has made calls regarding Retired Army Gen. Lloyd Austin's nomination to be the next Secretary of Defence.
Austin needs a waiver to lead the department because he has not been out of the military for the required seven years, and some Democrats on the Senate Armed Services Committee oppose granting the waiver.
Elected to the Senate in 2016, Harris is leaving the chamber with two years left in her first term.
In her short time in the chamber, the former prosecutor and California Attorney General grabbed headlines for pointed questioning at Judiciary Committee hearings.
She was a loyal Democrat in the Senate but also worked across the aisle on issues such as overhauling the bail system, supporting historically Black colleges and universities and making lynching a federal crime.
On Wednesday, Supreme Court Justice, Sonia Sotomayor, the first woman of colour to serve on the high court, will reportedly administer the oath of office to Harris.
ABC News reported that Harris will be sworn in on two Bibles, the first from a family friend that Harris used when she was previously sworn into office, and the second from the late Thurgood Marshall, the first Black Supreme Court justice.
As part of its' efforts to stem the tide of covid-19, Lagos State Government has implored Council of Obas and Chiefs, Chairmen of LGs/LCDAs across the state, members and executives of Lagos State Development Advisory Council to resume sensitisation on health precautions as the state combats the second wave of the virus.
Chairmen of the 57 LGs and LCDAs have also been urged to commence decontamination of their various domains.
Commissioner for Local Government & Community Affairs, Dr Wale Ahmed, who spoke during a stakeholders' meeting with the Council of Obas and Chiefs, LG/LCDA Chairmen, members and executives of Lagos State Development Advisory Council iterated that these measures have become expedient owing to the resurgence of the pandemic and the spike in the current rate of infection.
He reiterated the need to ensure members of their communities adhere strictly to the health guidelines issued by the state government to curb the spread of the virus such as; the wearing of facemasks, physical distancing, regular hand-washing and the use of alcohol-based sanitiser.
While commending stakeholders for their support at the wake of the pandemic in year 2020, he assured that with the support of the citizens of Lagos state, the state will emerge out of this health challenge stronger with better health structures and with a prosperous economy.
The de facto chief of South Korea's Samsung business empire was convicted Monday over a huge corruption scandal and jailed for two and a half years, in a ruling that deprives the tech giant of its top decision-maker.
Lee Jae-yong, vice-chairman of Samsung Electronics, the world's biggest smartphone and memory chip maker, was found guilty of bribery and embezzlement in connection with the scandal that brought down president Park Geun-hye.
Lee "actively provided bribes and implicitly asked the president to use her power to help his smooth succession" at the head of the sprawling conglomerate, the Seoul Central District Court said in its verdict.
"It is very unfortunate that Samsung, the country's top company and proud global innovator, is repeatedly involved in crimes whenever there is a change in political power."
It jailed him for two and a half years, concluding a retrial that was the latest step in a long-running legal process that has hung over Samsung for years.
Lee — who had earlier walked into court grim-faced and wearing a facemask, without responding to reporters' shouted questions — was immediately taken into custody.
Leading domestic gas distribution company, Shell Nigeria Gas (SNG), has signed a 20-year agreement for the domestic distribution of gas to industrial customers and manufacturing plants in Lagos and Ogun states.
In the new deal with the Nigerian Gas Marketing Corporation (NGMC), SNG will also extend its distribution network to Badagry to serve a new market in the border community.
SNG's Managing Director, Ed Ubong, said the new partnership would deepen domestic gas utilisation in Nigeria, and enhance further industrialisation in Agbara, Igbesa and Ota areas of Ogun State.
"This agreement will enable local industries to thrive and create employment opportunities for Nigerians. We look forward to continuing to grow domestic gas distribution to industries and manufacturing plants in Ogun State and other parts of Nigeria while unleashing the industrial potential of Badagry," Ubong said.
He acknowledged the support of the Nigerian Gas Company and NGMC over the last 20 years in helping SNG to continue to provide gas to industries and manufacturing plants in Nigeria.
Managing Director of NGMC, Engineer Faruk Usman, said he was excited about the agreement which he said would enable the parties to further unlock the potential of the domestic gas market and contribute to industrialisation in Nigeria.
Usman said, "We continue to work with credible partners to accelerate the marketing and distribution of natural gas to major industrial users in Nigeria in line with the vision of the Federal Government of Nigeria and the steers of the Group Managing Director of the Nigerian National Petroleum Corporation."
Speaking on the long-term deal, Country Chair, Shell Companies in Nigeria, Osagie Okunbor, said the knock-on effects of the gas distribution agreement would bring 'tremendous benefits to the economy' in SNG's states of operation and Nigeria.
Okunbor said: "Shell companies in Nigeria will continue to turn Nigeria's domestic gas opportunities into reality through our strategic intent to develop enough gas to meet our current commitments and future growth plans."
SNG and its partners and local stakeholders have agreements to build infrastructure and deliver natural gas to over 150 industrial and commercial customers, mostly in Ogun, Abia, Oyo, Rivers, Bayelsa and Lagos States. The agreements drive industrialisation, provide employment for skilled and unskilled local population in addition to directly improving internally generated revenues in these states.