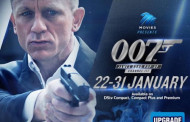 Owing to the massive success of the M-Net Movies Presents 007 James Bond pop-up channel early last year and the forthcoming instalment in the James Bond film franchise, M-Net is once again casting its spotlight on the suave, debonair, and dapper dressed secret service agent James Bond.
This time, however, the thrilling pop-up channel on DStv channel 111 will not only be open to DStv Premium customers but also, DStv Compact Plus and Compact customers for the first time, starting from Friday, 22 January 2021, until Sunday, 31 January 2021.
This will allow for a vast number of DStv subscribers, consisting of diehard Bond fans as well as new, young 007 admirers, to indulge themselves, from 09:00 AM to 9:00 PM, in the ultimate James Bond experience. It includes the dapper tuxedos, fast cars, sultry bond girls, exotic locations, mind-blowing gadgets, deadly villains, and martinis, which are served shaken, not stirred, of course.
The ten-day Bond film marathon, featuring all seven charming actors who have played the iconic 007 roles; from Pierce Brosnan to Sean Connery, Roger Moore and current Bond Daniel Craig will showcase every 007 film ever made in this highly popular film franchise.
The movies will be screened chronologically, starting with the first film in the series released 59 years ago, Dr. No (1962), to the latest Bond film and box office hit, Spectre (2015).
Viewers can watch this pop-up channel from any device (smartphone, laptop, or tablet) at any time, anywhere and enjoy multiple screens at home, using the DStv streaming service. All the films that will be screened as part of the pop-up channel will also be available on DStv Catch Up until Sunday, 28 February 2021.
With the Step Up offer, customers on DStv Yanga that upgrade to DStv Confam, will get a free upgrade in 48hrs to DStv Compact package to experience the James Bond Pop Up channel 111 and more
Visit the M-Net Movies website for schedules and more information at m-net.dstv.com, or www.dstvafrica.com and join the conversation using the hashtag #MM007.
Looking to unwind this weekend? Well, you have come to the right place!
We have selected a few movies to help you breeze through your weekend. From action movies, local content to rom-coms, GOtv has a bit of everything to make your time at home a bit more relaxing.
Here are our top 7 picks for this weekend:
Bring a bit of laughter to your home with Bringing Down The House at 8:30pm on BET (Channel 21) on Friday, 15th January. A man and a woman meet on the internet. She is a prisoner. She escapes from prison and comes to his house. She then proceeds to wreak havoc on his middle-class life.
Looking for action? Thriller? Watch out for The Trigonal: Fight for Justice at 11:40pm on M-Net Movies 4 (Channel 3) on Friday, 15th January. An underground fighting circuit run by an international crime syndicate invades a retired MMA champion's small, idyllic island hometown.
Are you into romantic Indian movies? well, Hero airs at 1pm on Starlife (Channel 23) on Saturday, 16th January. A boy, Sooraj Pancholi and a girl, Athiya Shetty, find themselves stuck in a whirlpool of such intense love that they would do anything and go to any extent to face all odds.
While on patrol, an aging cop, his partner and their ride-along get caught in a deadly standoff with a band on mercenaries. To find out what happens next, catch 211 at 2:49pm on TNT (Channel 16) on Sunday, 17th January.
Enjoy this local content, Mr Wonderful at 5pm on AM Family (Channel 2) on Sunday, 17th January. Mr Wonderful is a TV comedy series that revolves around the experience of a Nigerian Cab driver in contact with diverse people, advice and lifestyle.
Don't miss this sports drama movie, He Got Game at 6pm on BET (Channel 21) on Sunday, 17th January. A prisoner is out on parole with the promise of a commutes sentence. He only has to persuade his estranged son, Jesus, to sign with Big State, the Governor's alma mater.
CN To The Rescue is a new web-series that combines the forces of Cartoon Network's biggest fan in Africa, Taps Lembwa, and his favourites cartoon characters. Catch this on Cartoon Network (Channel 67) on Monday, 18th January at 5:30pm.
To enjoy all these and more on GOtv, reconnect now on the GOtv Max package to have the full experience as well as access to exclusive channels such as SS La Liga, BET, M-Net Movie 4, StarLife, Cartoon Network, Investigation Discovery and much more for a discounted price of N2,999 instead of N3,600!
Follow GOtv on 
Twitter, Instagram and Facebook to find out more entertaining movies and TV series in January. Also, visit www.gotvafrica.com, or download MyGOtv app which is available to iOS and Android users to upgrade, reconnect or select the Auto-Renewal option to stay connected to quality entertainment without interruptions and for other self-service options and join in on the excitement.
Lady Gaga and Jennifer Lopez will take the stage at U.S. President-elect Joe Biden's inauguration ceremony in Washington next week alongside others in what his transition team said would showcase a diverse America.
The two will perform at the Jan. 20 event for the incoming 46th U.S. president, which will also feature remarks from a black firefighter from Georgia, a former Youth Poet Laureate, a Catholic priest, and a pastor from Biden's hometown of Wilmington, Delaware.
Lady Gaga will sing the national anthem and Lopez will give a musical performance.
"They represent one clear picture of the grand diversity of our great nation," his team said in a statement on Thursday.
The presenters reflect Biden and Vice President-elect Kamala Harris' "steadfast vision of a new chapter in our American story in which we are an America united in overcoming the deep divisions and challenges facing our people, unifying the country, and restoring the soul of our nation," it added.
Their roles come as the Democrat takes over the White House from Republican Donald Trump in a scaled-down event amid the COVID-19 pandemic and growing security concerns after a mob of Trump supporters attacked the U.S. Capitol seeking to thwart lawmakers' certification of Biden's victory.
The public will not be on hand to watch the swearing-in at the West Front of the Capitol building, now fortified by fencing, barriers and thousands of National Guard Troops.
In announcing the inauguration speakers, Biden's transition team cited Lady Gaga's advocacy of LGBTQ rights and health issues, and Lopez's work raising awareness about the disproportionate impact of the novel coronavirus on Latinos.
Other speakers include career firefighter Andrea Hall of Fulton County, Georgia, and Los Angeles native 2017 National Youth Poet Laureate Amanda Gorman.
Former Georgetown University President Father Leo O'Donovan and Reverend Dr. Silvester Beaman of Bethel African Methodist Episcopal Church – both close to the Bid.
Nigeria's popular musician, Oladapo Oyebanjo (D'Banj), says 2021 will be marked in grand style as he plans to launch his new album 'Ikebe' before the end of the first quarter.
D'Banj made this known in Abuja, during a listening brunch of the album, which also had other tracks like "Banga" and "Antidote".
'Ikebe, which literally means buttock, was produced by Nigeria's talented producer, Rexxie.
D'Banj said he delivered the melodious number to create awareness on the need for the male gender to thread carefully this year, as heard on the track, after a turbulent 2020 ended with testimony of him welcoming his second child.
According to the artiste, the track says "oh Lord, help me, I no wan sin. I tell my body say you go die for this 'Ikebe'.
"So much has happened in my life in a short time, which appeared to be long; so this album and others like 'banga' and 'antidote' is about my personal life and I needed to express myself.
"I want to use the track 'Ikebe' to make a statement and preach what I stand for, which is respecting women and their rights, after my wife and I welcomed our second child and first baby girl.
"I needed to use them to relaunch myself into the music world and I was inspired by three things.
"Going through life in the last three years, it has been full of God's blessings because he restored me after the death of my son.
"People ask me how I deal with pain of the loss and what was going through my mind and these tracks tell exactly how I dealt with it," D'Banj said.
He expressed appreciation to his family and friends, who stood by him in time of grief, noting that God restored their lives through their prayers and messages.
The music icon also hailed his songwriters especially the one based in Los Angeles, U.S., who inspired another track "Antidote".
He said love was the antidote that helped him and his wife to overcome the death of their son.
Rexxie said the songs would get people dancing and can make one feel happy and reflect on past issues.
MultiChoice is delighted to bring back the hugely popular Step Up campaign offer to its DStv and GOtv customers this January.
The Step Up campaign offer gives all active and disconnected DStv Compact, Confam and Yanga customers the opportunity to pay for a package a step above their current package and get a boost to view programming on the next higher package. While customers on GOtv Jolli and Jinja can upgrade to enjoy GOtv Max for less at a special discount of N2,999 instead of N3,600 per month. All the upgrades are scheduled to happen within 48 hours and will be available from Thursday, 14 January till Wednesday, 31 March 2021.
"Through the Step Up and Max for Less campaign offers, we are giving our DStv and GOtv customers something to get excited about this January," said Martin Mabutho, Chief Customer Officer, MultiChoice Nigeria.
Mabutho further said: "We started this special offer back in 2019 as a way of giving customers on the lower packages a chance to enjoy quality video entertainment on our higher DStv and GOtv packages for less. We are pleased with the popularity and acceptance of the offer, so we are making it available once more to both new and existing customers. It promises to be even more exciting as customers who take advantage of this offer will be exposed to even more great entertainment starting this January."
DStv customers on the Yanga package can pay N4,615 for Confam package and then get a boost to view programmes on the next higher package, Compact; while customers on the Confam package can pay N7,900 for Compact and instead view Compact Plus package programming. Likewise, Compact customers only pay N12,400 for Compact Plus package and in turn get Premium package worth N18,400 per month.
January is booked with different exciting programming such as, brand new seasons of exciting shows and drama series on Africa Magic starting with Date My Family S2 premiere on Sunday, 17th January at 6pm on AM Showcase; My Siblings & I S3 on Monday, 18th January at 6:30pm on AM Urban and Unmarried S2 on Wednesday, 20th January at 9pm on AM Showcase.
Launch of the M-Net Movies 007 James Bond Pop-Up Channel 111 on Friday, 22nd January to Monday, 31st January 2021 on DStv Premium, Compact Plus and Compact.
The 2020/21 Football Season continues with the best leagues and cup tournaments on SuperSport. Watch Liverpool vs Manchester United on Sunday 17th January at 5:30pm and Manchester United vs Liverpool on Saturday, 23rd January at 4pm on SuperSport Premier League. Emirates FA Cup 4th round match between Leicester City vs Chelsea on Tuesday, 19th January at 9:15pm on SuperSport Premier League. In Serie A, Sunday, 17th January at 8:45pm is Inter Milan vs Juventus on SuperSport Variety 3 on DStv SuperSport Select 1 on GOtv while in La Liga, Real Sociedad vs Real Betis will air on Saturday, 23rd January at 6:30pm and Athletico Madrid vs Valencia on Sunday, 24th January at 9pm on SuperSport La Liga.
Exclusive GOtv Max content including all La Liga, Serie A, twice as more Premier League and UEFA Champions League matches, M-Net Movies 4, BET, Cartoon Network, StarLife, ROK 2, CBS Reality and more.
The Step Up and Max for Less offer is open to both active and disconnected DStv Yanga, Confam and Compact customers and GOtv Jolli and Jinja customers. For more information on this limited time offer as well as other products and services, please visit: www.dstvafrica.com or www.gotvafrica.com
Africa's longest running and most successful drama series, Tinsel, is set to air its 3000th episode on Thursday 21 January 2021.
Launched in 2008, Tinsel has reimagined African soap opera, drawing audiences in with its intriguing storyline which speaks to love, influence and scandal set against the backdrop of the Nigerian film industry.
Over the years, Tinsel has also served as a major launchpad for many of Africa's best-known faces on television including the likes of Gideon Okeke, Gbenro Ajibade, Damilola Adegbite, Chris Attoh, Linda Ejiofor-Suleiman and many others. Tinsel also features many established Nollywood actors such as Iretiola Doyle, Victor Olaotan, Funlola Aofiyebi-Raimi, Yul Edochie and many more.
Commenting on this major milestone, Channel Director, M-Net West Africa, Wangi Mba-Uzoukwu said: "Our local content story cannot be complete without a mention of our flagship soap opera, Tinsel. We are indeed happy to hit the 3000th episode mark of this stellar series. At MultiChoice, we remain committed to growing and promoting local content and talents as we continue to expand the boundaries of African film and television production. Tinsel owes its longevity to its amazing cast, stellar directing, multifaceted storyline and high production values."
Tinsel, which is widely considered the most successful television drama on Nigerian television in recent times, also won an Africa Magic Viewers' Choice Award for the Best M-Net original drama series in 2017.
The 3000th episode will feature a guest appearance from prominent Nigerian comedian, AY Makun.
Football fans on  DStv and GOtv can look forward to loads of action from the 2020-21 Premier League and Serie A seasons, with matches scheduled for 15-18 January 2021.
The pick of matches from the Premier League this coming weekend sees Liverpool and Manchester United meet at Anfield. The match will be broadcast live at 5:30pm on SuperSport Premier League (channel 203) exclusive to DStv subscribers.
This classic English rivalry is always fiercely contested, but it will have even more importance this season as United have emerged as potential title challengers to Jurgen Klopp's men.
The Red Devils are particularly good away from home with the pace and penetration of their counter attacks proving too much for host teams to handle, though producing a similar showing against the class of a team such as 'Pool" will be no easy task.
This round of Premier League action also features a Friday night London derby between an improving Fulham and a Chelsea side looking to recapture their prime form at 9pm live on SuperSport Premier League; a Saturday-evening battle between two European hopefuls in Aston Villa and Everton at 6:30pm live on SuperSport Grandstand (DStv Channel 201) and SuperSport Premier League (DStv Channel 203).
Sunday and Monday will also feature Tottenham Hotspur visiting Sheffield United at 3:00pm on SS Premier League, Manchester City hosting Crystal Palace at 8:15pm live on SuperSport Grandstand, SuperSport Premier League and SuperSport GOtv Football (GOtv Channel 31) while Arsenal will welcome Newcastle United to the Emirates Stadium on Monday at 9pm live on SuperSport Premier League.
There are two standout matches from this weekend's Serie A action, starting with a Friday night clash between Lazio and Roma. The match will air live at 8:45pm on SuperSport Football (DStv channel 205 and GOtv channel 31) and SuperSport GOtv Select 1 (GOtv channel 33).
The 'Derby della Capitale' or Rome derby is one of the most fervent rivalries in all of Italian football. It has been almost a full year since their last Serie A meeting and fans of both the Giallorossi and Le Aquile will be itching to watch this battle.
The other key clash of the round takes place on Sunday night and sees Internazionale host Juventus at San Siro for a game which could be key in the race for the Scudetto. Tune in at 8:45pm on SuperSport Football and SuperSport GOtv Select 1.
The round of games in Italy also features Napoli hosting Fiorentina, Atalanta welcoming Genoa to Bergamo, and a closing clash which sees Milan visit the Sardegna Arena on Monday night for a battle with Cagliari.
Don't miss the 2020-21 football season on SuperSport on DStv and GOtv. Visit www.dstvafrica.com and www.gotvafrica.com to subscribe or upgrade, and join in on the excitement. And while you're on the move, you can stream matches on DStv.
Ayodeji Balogun, Nigerian Afropop singer better known as Wizkid, has come through with the visuals for 'Ginger', a track off 'Made in Lagos', his 2020 hit album.
The multiple-award winner took to his social media pages to announce the release of the project featuring Burna Boy, another music heavyweight, on Friday.
The less than four-minute video sees the music stars appealing to their women to give them the opportunity to express the depth of their love.
It also sees the singers flanked by different models who could be seen dancing and posing in different styles to further provide visual appeal.
"If you want make I ginger give me the kokoro. Ma ko je bi jollof anywhere I go. Je kan mo pe mo ma gbomo," they could be heard singing in a mixture of Yoruba, English and Pidgin.
"Come make I come make I show you my kponono…Make I rub, make I love, make I rub. Make I touch up pon it make I rub around…like fine wine, say you sweet."
Since its release, 'Made in Lagos' has continued to receive global recognition including being named as one of UK Guardian's  50 Best Albums of 2020.
With several beautiful projects, awards and honourary mentions, Wizkid and Burna Boy have established themselves as household names in the Nigerian music industry.
Watch the video below:
The new year is in full swing and GOtv is set to make this year memorable with a list of exciting TV entertainment you can look forward to this January.
So, get into your comfy clothes, grab your snacks and enjoy our recommendations for this weekend!
Looking for action? Crime? Drama? Watch out for this a visually stunning movie, In Full Bloom, which takes viewers on a journey of a reigning boxing champion Mashiro who is training for a high-stakes international fight under the guidance of his sensei. His opponent is Clint Sullivan, a down-and-out fighter from America. Catch this on Friday, 8th January at 6pm on TNT (channel 16), available on GOtv Jolli and Max.
Hands Of Stone will take you on a journey of heart and determination. Follow the inspiring story of a boxer and his rivalry. The whole family can catch this movie on Friday, 8th January at 6:34pm on M-Net Movies 4 (channel 3), available on GOtv Max.
For the kids who have a passion for cooking, you can join Matilda Ramsay, the daughter of the famous chef Gordon Ramsay, as she prepares a host of delicious dishes in her unique style for the members of her family in Matilda and the Ramsay Bunch on Saturday, 9th January at 1:55pm on Da Vinci (channel 66), available on GOtv Jolli and Max.
There are quite a number of football matches to entertain you this weekend! Such as FA Cup: Aston Villa vs Liverpool at 8:45pm on Friday, 8th January on SS Football (channel 31) available on Jolli, La Liga: Atletico Madrid vs Athletic Bilbao at 4:15pm on Saturday, 9th January on SS La Liga (channel 32) available on Max, Serie A: Juventus vs Sassuolo at 8:45pm on Sunday, 10th January on SS Football (channel 31) available on Jolli. For more details on these matches and other LIVE sporting action, visit SuperSport
Seeking a storybook ending for his legendary career, the Undertaker's struggles come to a head in Saudi Arabia with disastrous results in WWE Undertaker: The Last Ride this Sunday, 10th January airing at 7pm on SS Select 1 (channel 33), available on GOtv Max.
Tune in to follow the story of two women and their sons who battle it out for their father's property in House On Fire on Sunday, 10th January at 8:30pm on AM Epic (channel 9), available on GOtv Jinja, Jolli and Max.
To enjoy all these and more on GOtv, reconnect now on the GOtv Max package to have the full experience as well as access to exclusive channels such as SS La Liga, BET, M-Net Movie 4, StarLife, Cartoon Network, Investigation Discovery and much more for the price of N3,600!
GOtv Jolli package for channels such as SS Football, Fox, Da Vinci, MTV Base, Telemundo, AM Family, TNT, Discovery Family, CBS Reality, ROK 2 & ROK GH for only N2,460. You can make use of the MyGOtv app from the comfort of your homes to upgrade or reconnect.
Follow GOtv on Twitter, Instagram and Facebook to find out more entertaining movies and TV series in January. Also, visit www.gotvafrica.com, or download MyGOtv app which is available to iOS and Android users to upgrade, reconnect or select the Auto-Renewal option to stay connected to quality entertainment without interruptions and for other self-service options and join in on the excitement.
D'banj, a Nigerian singer, has welcomed the arrival of a bouncing baby girl with Lineo Didi Kilgrow, his wife.
The Kokomaster, whose real name is Oladapo Oyebanjo, took to his Instagram page on Sunday to break the good news with his numerous followers.
He also shared a picture of himself carrying the newborn baby in his arms.
"As I hold my daughter, my own babylet In my arms on this day, all the proof in God I need is in Her Eyes. You are a gift from the heavens and my God indeed honored his words in Psalms 65:11," he wrote.
"And to my beautiful wife Lineo, I watched how you changed by the day and I marveled at your strength. I couldn't imagine the stress you had to go through carrying another human in a body. But you taught me what real strength is as you endured every kick and change just to give us our baby girl, while still Taking care of all of us.
"You are wonderful love and a rare gem. I'm grateful I get to wake up to you. You have proven yet again that you are unmistakably one of the best gifts God has ever blessed me with. I love you. Happy new year. 2021 is full of grace. Zane your little sister is here."